In focus: Elsie Conway, Phycologist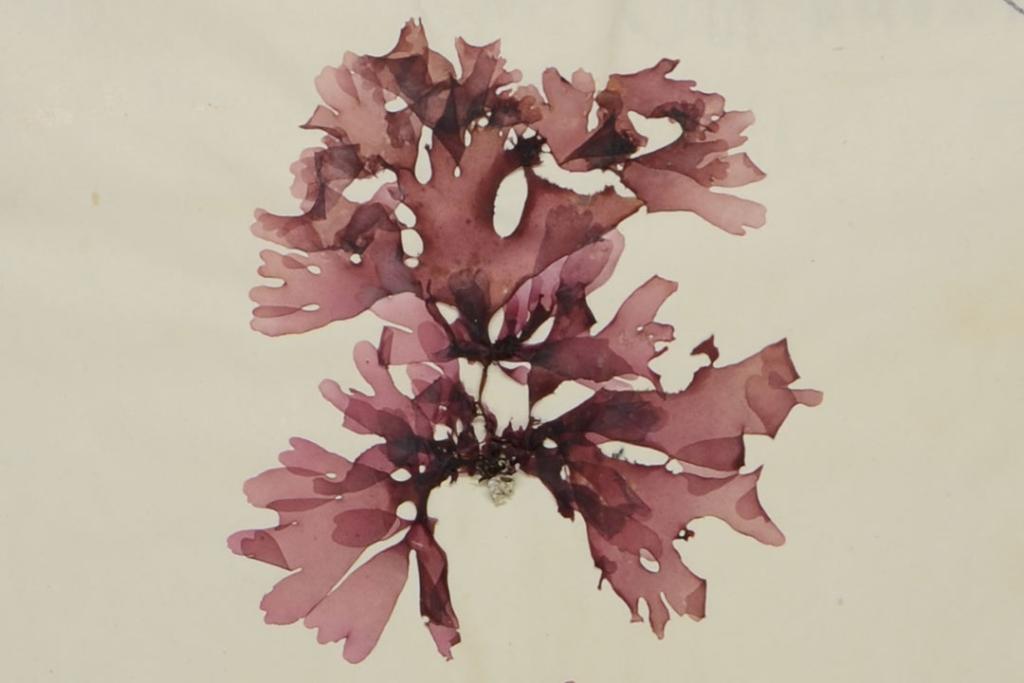 Our collections are full of examples of remarkable women, pioneers, role models and leaders in their selected field. Dr Elsie Conway (1902-1992) is one of these. To me she is one of those larger than life figures who inspired a generation of students to marvel at the wonder of the sea and brought to them a passion for seaweed which I share.
Elsie grew up in Aldford, Cheshire the eldest daughter of William and Margaret Philips. She attended the Queens School, Chester an independent girls school from 1912-1919. Elsie studied botany at the University of Liverpool graduating with first class honours in 1923. It is during her studies that her interest in algae was sparked by her interactions with Dr Margery Knight. On graduation she was offered the opportunity to study floral morphology with Professor John McLean Thompson and was awarded her PhD in 1925.
After her PhD, she took a post as lecturer in botany at the University of Durham but unfortunately had to give it up when she was married in 1928 to Geoffrey Seymour Conway, the England capped rugby union player. They had three sons, John, Robert, and Martin, who used to refer to her as "Her Botanical Majesty". Elsie was divorced in 1948.
A strong personality
Elsie moved to Glasgow in 1938 working as a part-time demonstrator at the University of Glasgow. She was appointed lecturer there in 1945, progressing to senior lecturer in 1965. Elsie's research focus was on the red algae Porphyra, on which she published many taxonomic papers.
She was an extremely enthusiastic teacher and, given her strong personality, could easily control the unruly undergraduates. In one of her honours classes when looking for red algal reproductive structures, to everyone's great amusement she suddenly proclaimed, "Oh! What wonderful sex-organs, class, come and see this boy's sex organs". She left a lasting impression on everyone who studied under her.
Specimen of Chondrus crispus collected by Elsie Conway
Vital research
Elsie was a remarkable woman and left a legacy to the world in her study of seaweed, but many may not realise her help in the war effort. With the onset of war in 1942, she explored how to produce agar using British seaweed with Lillie Newton, Sheina Marshall and Andrew Orr. Traditional supplies of agar from the Middle East had become scarce during the Second World War. Agar was desperately needed to produce antibiotic vaccines that were used to stop infections in this time of conflict. They developed the use of the red algae Mastocarpus stellatus and Chondrus crispus as sources of agar.
Elsie was also asked to be part of another research programme, working on the eradication of the fern bracken, in order to free up land for farming. This research work resulted in seventeen scientific publications.
Fair Isle expedition
Elsie was always very sure of herself and with a strong, powerful voice, she could dominate any situation, expressing her views forcefully in a way intended to inform and educate. She would take control of any situation taking it in the direction she wanted. Her booming voice was legendary, and even in high winds on the shore, all the students could hear her.
Elsie, along with phycologists Shelia Lodge, Elsie Burrows, and Harry Powell, studied the Fair Isle coastline in 1952. The samples from the expedition are housed within the botany collections at World Museum. This work discovered that the intertidal zonation on the Fair Isle shore was different from that of other rocky shores in the United Kingdom. This was due to the severe wave action in the area, coupled with high humidity due to low cloud and fog cover.
The expedition involved long days on the shore and processing lots of seaweed specimens to take back for identification, working around the tides. Elsie Conway's diary for 29 June 1952, remarks:
"A most adventuresome day! After the others had been walking a short time at the lower Alaria levels for a short time, a very large wave swept over the loch and E.M.B., S.L., H.T.P. were swept out to sea. Dreadful moment! Robin was mercifully thrown against the cliffs and so was not dragged down and I was extremely thankful that I was standing at high level taking photographs. The next wave washed them back they all serried on to the rocks; but as E.M.B. cannot swim, their escape was very, very merciful. After that, the whole party worked higher up the shore and the map that is evolving tonight looks very, very useful."
They went back to the same bay to collect more of the brown seaweed Alaria a couple of days later, but this time, to be safe, they took a lifeline!
Specimen from Fair Isle expedition 1952
Practical and inspirational
She was a practical person, and, as with many other phycologists, she used her old, often holey, tights to press her seaweed. Her undergraduates used to find this most amusing when she would give them out to press the seaweed. She deployed their use when working on the shore passing them to divers to collect seaweed in, tactfully referred to them as "nylon bags" in publications.
She was made one of the few female fellows of the Royal Society of Edinburgh in 1967. Throughout her career, she was heavily involved in the British Phycological Society from its foundation in 1951. She was president of the society 1965-1967, council member 1953-1955, and editor of the journal 1955-1965.
On her retirement in 1969, she returned to live in Chester with her younger sister, Gladys, and was involved with local natural history societies and travelled extensively. She did not take things easy in retirement, taking up a visiting professorship at the University of British Columbia, Canada (1969–1970), and a research associateship (1972–1974), looking at the Pacific red algae Bangia and Porphyra. Her eldest son, John Conway (1929–2017), was a professor of history at the University of British Columbia. In between the visits to Canada, she worked in New Zealand on a fellowship at the University of Otago (1970–1972) producing a taxonomic list of Stewart Island algae. Elsie was a truly inspirational women throughout her life.