Foundations for the future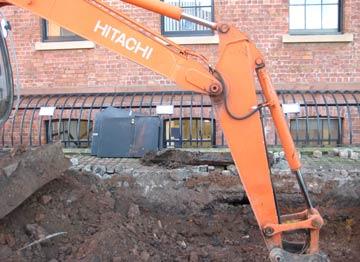 A Happy New Year to everyone and as someone with Chinese ancestry it is fitting to wish you all a fruitful
Year of the Rabbit
. Liverpool has a long established and rich Chinese community, one that adds to the diverse fabric of the city. There has been a Chinese community since the mid-nineteenth century which originally settled around the docks but in more recent times settled in and around Berry and Duke Street. Interestingly Liverpool's Chinatown has the largest Chinese arch in Europe and indeed outside of China. The
New Year celebrations in Liverpool
are fantastic and well worth attending. The museum sector has a number of challenges in 2011 but I believe that the
International Slavery Museum
will continue to have a strong offer and build on the success of 2010. A year which saw us
pass the 1 millionth visitor mark
; launch the new International Slavery Museum book
Transatlantic Slavery: An introduction
; host a series of
successful exhibitions
; develop our
contemporary slavery collection
and open our new
Campaign Zone
. For many years there has been the debate within the sector as to whether museums should be places of neutrality, islands of objectivity in an often subjective world. I wrote about this in a recent article. Those of us involved in the International Slavery Museum disagree and feel that museums are by their very nature active agents of social change and should actively seek to do so. Janet Marstine in 'New Museum Theory and Practice' (2006) has echoed similar sentiments;
"Museums are not neutral spaces that speak with one institutional, authoritative voice. Museums are about individuals making subjective choices."
In 'Who Owns History? Rethinking the past in a Changing World' the historian Eric Foner (2002) commented that;
"History always has been and always will be regularly rewritten, in response to new questions, new information, new methodologies, and new political, social, and cultural imperatives."
The International Slavery Museum has an important role to play in the modern world and while we continue to be a leading museum for introducing people to the horrors of transatlantic slavery and its legacies we also aim to be actively involved in current related issues. I am often deeply saddened by articles and news items which clearly indicate that for all the strides forward we have made (an African American President of the United States; legislation to challenge institutional racism) people around the world are regularly still seen as commodities, to be used and abused for someone else's gain. Cultural differences, seen as interesting, positive factors for the majority are still seen as divisive and threatening, due to a lack of understanding, by others. Political rhetoric and government legislation across the world, particularly in Europe, often does not help. Targeting people's lack of knowledge and deep rooted misgivings and prejudices often wins votes though. Depressing as this might be, my colleagues and I, and indeed all of you who support the International Slavery Museum, can make a difference. The world will not change overnight but it can change. If you have an issue you feel we need to be aware then
contact the museum
, if you need to report a racist incident or other another form of hate crime there are local and national organisations such as the
Hate Crime Unit of Merseyside Police
and the independent charity
Stop Hate UK
. Finally, some updates. You may remember my 2008 trip to the UNESCO HQ in Paris to
launch the ISM/UNESCO Transatlantic Slave Trade touring exhibition
. Since then it has been to a number of international venues but 2010 in particular was a busy year. In May 2010 the exhibition arrived in Istanbul as part of organised events to the memory of the Afro-Turkish community. The exhibition then went to Brasilia, the capital of Brazil in July for a capacity building seminar on the places and sites of memory and in August it travelled to Nigeria to form part of the Osun State Government's International Day for the Remembrance of the Slave Trade and its Abolition on 23 August. The colloquium was organised by the Centre for Black Culture and International Understanding in collaboration with the Centre for Black and African Arts and Civilization (CBAAC), the Federal Ministry of Tourism, Culture and National Orientation and the
UNESCO Slave Route Project
. The International Slavery Museum is now in discussion with UNESCO and partners in Guyana to see if the exhibition can be used as part of the country's 2011 Year of the People of African Descent celebrations. Some very positive news regards the next phase of the International Slavery Museum. By 2012-2013 we hope to open our state of the
art education and research centre
in what is now the Dock Traffic Office on the Albert Dock. As I have said, there are challenging times ahead for the sector but National Museums Liverpool has a firm commitment to the project and in January we started work on a fully accessible ramp to the building. It is just the start (a very noisy start) of what will be an incredible journey. Watch this space. Bye for now