Fumigation at Liverpool Museum, 1930s style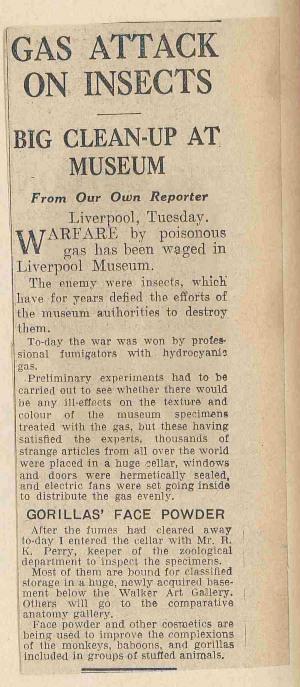 The Maritime Archives and Library seeks to collect and preserve the maritime history of the Port of Liverpool. Because of the wide range of businesses that were involved in the maritime economy, we hold some slightly unusual collections. These include a box of documents from Hivey Fumigation Company, providers of fumigation and pest control services to warehouses and ships. So, not a giant of maritime commerce, but another vital part of the industry, without which cargoes would have been ruined, voyages made unbearable, and disease spread far and wide.
Within the records is a volume of newscuttings about big stories in the fumigation world. I was only looking through it to find covering dates for the catalogue entry (note to cutters out of news stories – for goodness sake include the name of the newspaper and the date when you are snipping away. I know that is a redundant note in this digital age. I recently had to explain The Phone Book as a physical paper thing to a student – you can imagine how old that made me feel). Anyway, amongst the cuttings I found this tale of releasing poisonous gas into World Museum to deal with an insect infestation. I imagine our Health and Safety team would have something to say about that. I am also fairly sure the curatorial staff no long apply make-up to 'improve the complexions' of the exhibits as outlined in the final paragraph.
Judging by the surrounding newspaper cuttings I think the story dates from 1934, so I fear some of the 'stuffed animals' may have been lost during the bombing of the museum in May 1941. They seem to have had a rather eventful life even after their death.