Galkoff's tiles saved!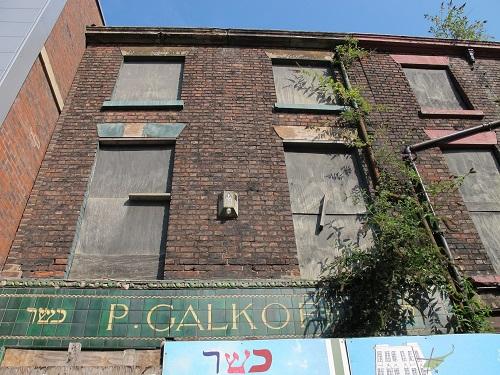 The gorgeous green Galkoff tiles were added in 1933.
If you're travelling in to Liverpool via London Road, you might spot some activity around the old Galkoff's Kosher butcher's shop. As part of the Galkoff's and the Secret Life of Pembroke Place project the beautiful green tiles from the building are being carefully removed by professional conservators, and will be cleaned and consolidated. Bringing the tiles indoors will ensure their long-term survival. Liverpool School of Tropical Medicine (LSTM) now own the building, and are working with the Museum of Liverpool to preserve the tiles. LSTM are giving the tiles to the museum for their preservation in public ownership in the collections of National Museums Liverpool. The tiles will be mounted and displayed in the Museum of Liverpool from late 2018 for a minimum of five years.
The tiles are an important reminder of the Jewish community who once lived in the area around Pembroke Place. Percy Galkoff established he business around 1906. He was born in 1877 in Poland (then part of Russia) and came to England in 1905 after being discharged from the Russian Imperial Army. Arriving at an East coast port, Percy headed to Birmingham before settling in the Brownlow Hill area of Liverpool. Research has traced the Galkoff family back to a village in Poland called Warta in 1813. Galkoff's butcher's shop was one of many Jewish businesses in the area, and was at the heart of the local community. Recreating the façade of P Galkoff bucther's shop in the museum will allow many more people the opportunity to learn about this important part of Liverpool's heritage. People have contacted the project to share their memories of life and work on Pembroke Place, and shopping at Galkoff's.
If you have memories of the Pembroke Place area, please contact museumofliverpool@liverpoolmuseums.org.uk