Gary Lawrence wins John Moores 2018 Visitors' Choice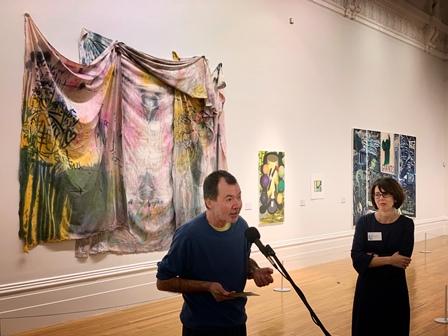 Visitors' Choice winning artist, Gary Lawrence Visitors to the
John Moores Painting Prize 2018
have spoken in their thousands and voted for Gary Lawrence's
Kos Town Paradise Hotel Front Terrace
to be their winner for this year's Visitors' Choice Prize. The dark and deceptive painting won the £2,018 prize, sponsored by
Rathbones
. In total around 16,000 votes were collected for the Visitors' Choice, with many of those who voted for Gary's work taking the time to say what had drawn them to it:
"When you glance at it all you see is black, but as you stare, a picture forms. So clever, it reminds me of people – you don't see someone's true colours right away, it takes time for them to open up." "The way the artist uses very few colours to depict the terrace is extraordinary. The white lights attract the viewer and the green completes the outlines. Entrancing."
Sandra Penketh, Director of Art Galleries at National Museum Liverpool, said: "We are very pleased to award Gary the 2018 Visitors' Choice, on behalf of the John Moores Painting Prize audience, who so loved this magical painting. Kos Town Paradise Hotel Front Terrace is almost supernatural. It is a painting that is otherworldly, yet if you give it a few moments, its subject matter is revealed. Lawrence's minimal colour palette, materials and the technique he uses demands that the viewer be active in deconstructing what they are looking at, almost like a slight of hand, transforming a mundane scene. It is clever and witty."
Visitors' Choice winning painting 'Kos Town Paradise Hotel Front Terrace' by Gary Lawrence Artist Gary Lawrence said: "I am delighted to have won the 2018 John Moores Visitors' Choice Prize. It is always eye-opening to get feedback on one's work but an acknowledgement such as this award is very humbling. Being part of this John Moores exhibition has been terrific. I first entered the competition about 30 years ago and have done so on a few occasions, it's amazing to be shortlisted. Thankyou to everyone who took the time to vote for me, as well as the sponsors." John Duffy, Senior Trust Manager at Rathbones, commented: "Rathbones is delighted to present Gary with a cheque for £2,018 and to continue our longstanding relationship with the competition in this way. It's always exciting to see which painting resonates with visitors to the John Moores Painting Prize exhibition. Congratulations Gary!"
Artist Gary Lawrence accepts the Visitors' Choice cheque Jacqui Hallum is the 30th winner of the £25,000 Prize, awarded for her work
King and Queen of Wands (2017)
. It was selected from a shortlist of five paintings, which also included
Quilt
by Billy Crosby; The
Thunderous Silence of Your Presence
by Tom Howse;
GIANTS
by Joseph O'Rourke and
The Divide, Beyond Reasoning
by Shanti Panchal. Each of these shortlisted artists received a prize of £2,500. John Moores 2018 runs until 18 November at the
Walker Art Gallery
.