Getting to know Ernst Coppejans
Emily Smith, Curator of Contemporary forms of Slavery interviews Ernst Coppejans on his SOLD series of photographs. SOLD is a series of 25 anonymous portraits of victims of human trafficking in the Netherlands.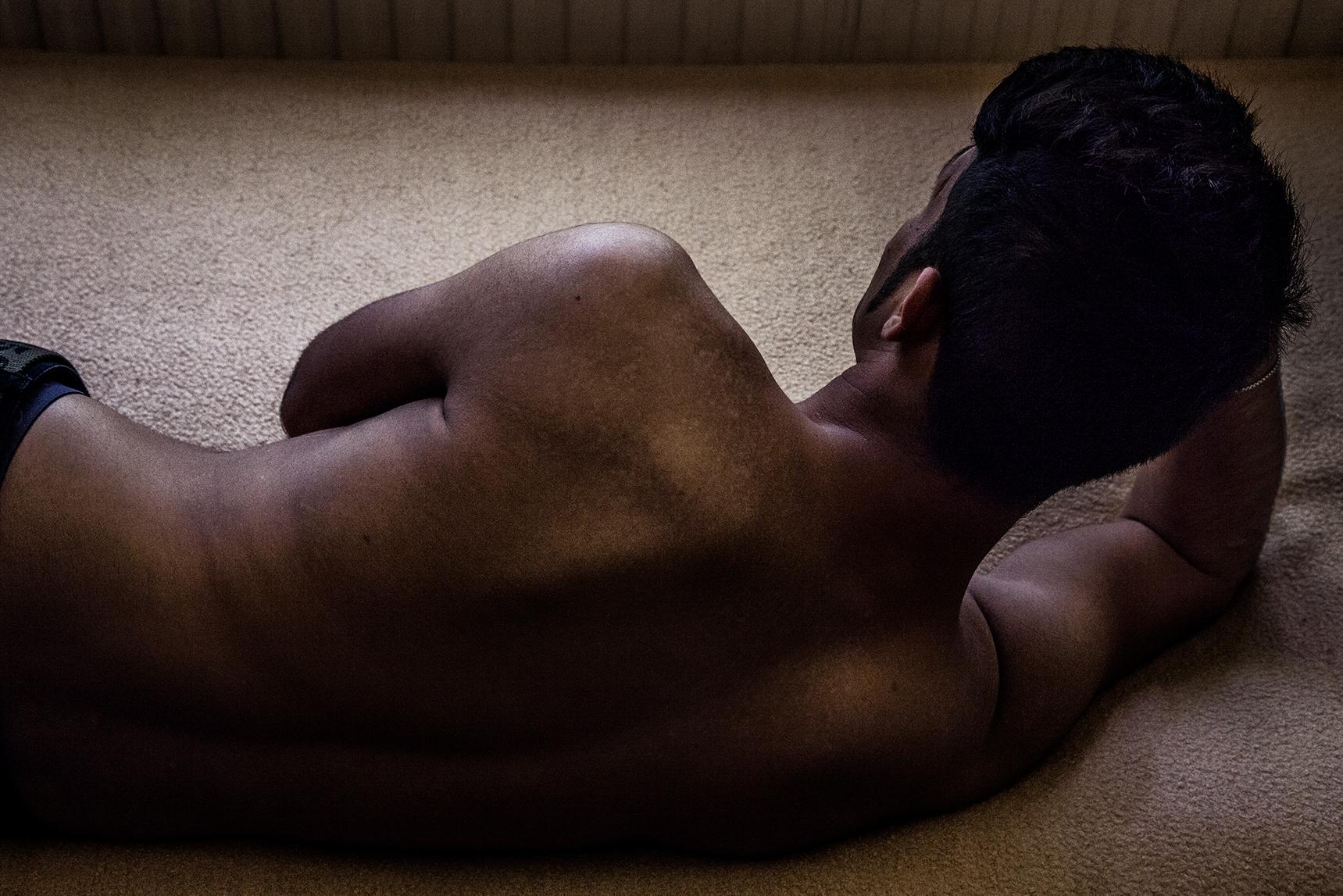 SOLD (Young One), Ernst Coppejans, 2020
Please tell us about yourself?
Portraiture and telling the stories of the portrayed is my passion. Next to commissioned work for national newspapers, magazines, NGOs, etc, I'm always working on my own extensive, socially engaged projects. With these portrait series, I like to pay attention to important topics such as diversity, inclusiveness, racism, discrimination, and exclusion.
In these projects, the underdog is the star. Their strength is a source of inspiration, their story needs to be told.
How have you found life in lockdown during the pandemic?
For me personally not much changed really, I already work from home. In the beginning, I got fewer assignments which was actually very welcome because I was very busy working on my new project Antique Pink and needed a lot of time and focus for that. Antique Pink is a tribute, in 30 portraits and interviews, to the Black, Brown, and White LGBT+ people of 70 years and older. They are responsible for LGBT+ emancipation. We stand on their shoulders. The freedom we know now is still far from self-evident. Their stories are part of our cultural heritage and need to be recorded, preserved, and shared. Among the community but also with the rest of society. Antique Pink' will be included in the collection of the Amsterdam City Archives and will travel through The Netherlands as an outdoor multimedia exhibition from summer 2021.
SOLD (Cascade), Ernst Coppejans, 2020
Do you have any particularly fond/inspiring memories from past LGBT+ History months and/or Pride events you would like to share
This year is actually very special because Antique Pink was launched during Amsterdam Pride in July. Next to that there I have, another open-air exhibition traveling through the city (both in collaboration with Open mind Foundation). Legal Love. 20 portraits of very diverse married lgbtqia+ couples in honor of the 20 year anniversary of opening civil marriage to same-sex couples. The first same-sex couples were allowed to get married this year 20 years ago. Amsterdam was the first city in the world where this was possible. Something to be proud of. But this exhibition is also about creating visibility and understanding because 20 years later we are still not there where we need to be and the fight for acceptance and equality is still necessary.
Who are your icons/do you look up to anyone?
Changemakers. People who fight and work hard to make this world a better place for all. Be it on a small or larger scale. I have a huge admiration for people in healthcare, who go to work every day taking care of others because that is their calling. It's truly a disgrace they are so poorly paid. On a larger scale for instance the founders of the Black Lives Matter movement, LGBTQIA+ activists worldwide, people fighting against climate change, activists and educators fighting systemic racism.
When are you happiest?
When I see a series come together while working on it when all I envisioned falls into place. That's a euphoric moment. And the moment when the work is finished and shared for the first time. When you notice that it has an impact and is the start of conversations, connection, and more understanding.
One of the happiest moments was when SOLD was acquired by the ISM. I can not think of a better, more honourable, and more suitable place for this important story.
What role do you think art and artists have in discussing and highlighting social issues?
A very important role. Next to journalism, the news, etc artists have a different way of paying attention to social issues. A more visible, visual, and engaging way often. My personal aim is to create curiosity. Who is this person in the picture? Why is this person portrayed in that manner and what is the story behind this portrait?
A few weeks ago, the open-air exhibition Legal Love was defaced. The exhibition travels through the city and on the sixth location thick stripes of paint were sprayed across the throats of all the portrayed couples. This was not just vandalism, this was something else. This was a true attack and it felt like that. It was a big shock and very emotional for everybody involved. But we turned it around. We did not move the exhibition, we made new prints and the exhibition stayed at that location. The national and local media all featured the story and there was great indignation at this threat and expressions of support came from all over society.
It was terrible but it was also a confirmation of why exhibitions like this are very important and needed.
SOLD (Family of 4), Ernst Coppejans, 2020
What advice would you give to someone trying to succeed in the photography industry?
Patience, perseverance, and very hard work are key. Know exactly what you are doing and don't expect people to come to you. Because for a long time they won't until they do. You are in charge and need to put yourself out there. And love what you do. Because I think it is the greatest profession in the world.
What other photography exhibitions have you created in relation to contemporary forms of slavery/LGBT+?
For example the series Dans le Milieu, a series of 45 portraits of mostly young West African LGBTQ+ people, photographed in West Africa. I visited West Africa many times before I became a photographer and always wondered how LGBTQI+ people survive in a hostile society. In many West African countries, you risk jail or worse by coming out. I did a lot of research and with the help of Human Rights Watch, I was connected with local LGBTQI+ -activists who invited me to come and offered to help me make this series.
The exhibition Legal Love is now traveling through The Netherlands and Antique Pink was launched this July. I'm working on a continuing series called Black and Brown trans stories where I portray trans people of colour and share the stories they want to share. Also, a big project on Intersex is coming up. The most unknown letter in LGBTQIA+.
Can you tell us what one of the best things about creating the SOLD photo series was?
Learning about human trafficking and meeting the people who fell victim to it and being able to work with them and give them a voice. The portraits were shot in their rooms in shelters where these women and men temporarily found safety, and a home, and maybe the start of a better life. The clothes they wore were often their only possessions. The portraits were collaborative efforts between me and the portrayed. We shared ideas and worked together to create portraits that show their strength and beauty, not portraying them as victims. Being a victim does not define them. These are people, just like us. People who had something terrible happen to them. People who are very strong. To have lived through what happened to them takes a lot of determination and character. They are people with hopes and dreams, and hopefully a better future ahead. Being able to make people more aware of human trafficking through this series is my goal. And it is working, I think… I won the International LensCulture portrait Awards 2020 for this series and now the series will be part of the ISM collection. Because of that many many people will hear the story of modern-day slavery. When I started working on the series, I had no idea it was such a huge problem worldwide. And I am very sure there are many more people who don't know this happens close to all of us. Even in your own town.
Can you tell us what the hardest part was?
To hear what they had been through and learn what had happened to them. These stories really get to you. And also the fear they are still in. They might be safe in a shelter now but they have a very difficult future ahead. They are far away from home and often too scared and ashamed to return. The hopelessness is almost suffocating. Also, the realisation that looking at the numbers of victims there are millions of people responsible for this crime…it's astounding.
Why did you call the collection of portraits SOLD?
Because these people were literally sold. They were forced to work for people who made a lot money off them. Treating them as a product, as slaves, and not as fellow human beings.
How did you gain the participating survivor's trust?
It took quite a while, almost a year before I was able to make my first portrait for SOLD. At first, I would go to the shelters often to have coffee and lunch, getting acquainted. Telling them about my work and showing my work. Telling them about my plans and sharing ideas. I organised a fashion shoot with the ladies of the first shelter which was an all-women's shelter. It helped I could tell them I'm gay. Less of a threat. That shoot broke the ice. The pictures were purely for themselves.
What does this particular portrait (Young One) say and mean to you?
I met this handsome and at that moment rather confused young man in a shelter in Groningen, in the north of the Netherlands. An all men's shelter. So far, I had only portrayed women. Before portraying him, I had never heard of men being sex trafficked as well. After Young One I portrayed other men who also ended up in the sex industry. Not many people realise this also happens to men. This guy is in my heart, he has a whole future ahead of him and I really really hope he is in a better place now. Unfortunately, it is nearly impossible to find out what happened to him or the other people I portrayed. They all have left the shelters by now and have been replaced by many others. It's an endless stream of victims.
Portrait photo of Ernst Coppejans