Giant inspiration in our Titanic exhibition!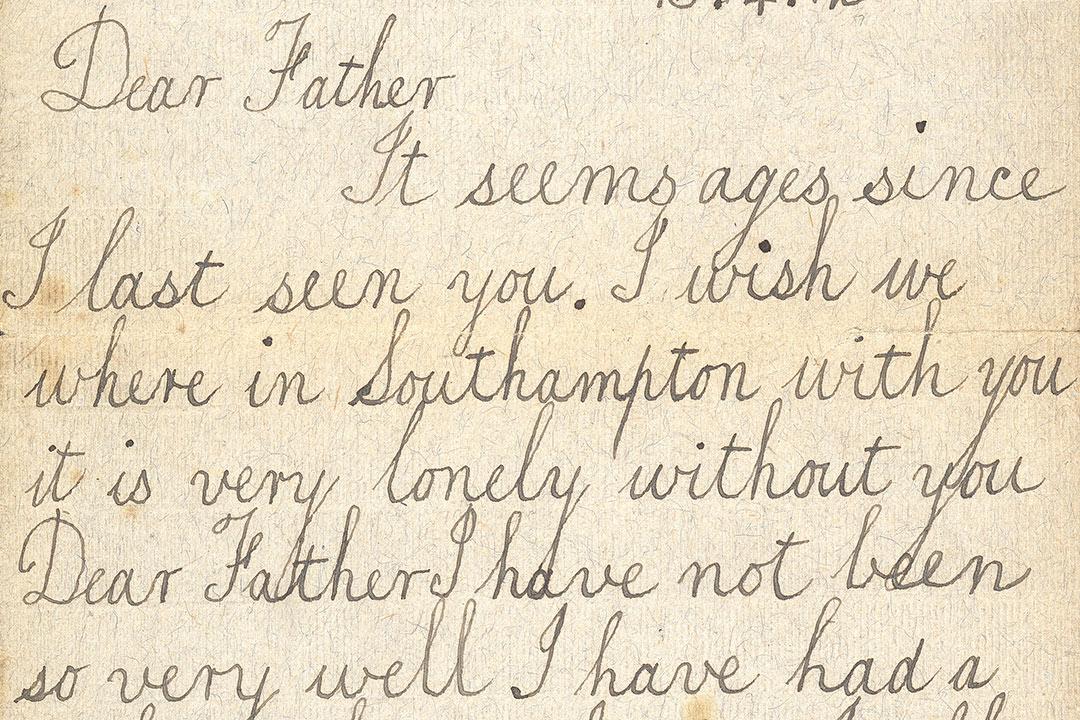 In April 2012 Liverpool woke up to find a mysterious Giant partly submerged in Salthouse Dock. In an incredible piece of street theatre which really captured the city's hearts, the Giant spent the weekend searching the city for the Little Girl Giant and her cheeky dog Xolo, in order to give her a letter from her father, who had been lost on the Titanic. Their reunion at the end of the weekend was a truly magical and emotional experience, watched by enormous crowds at the waterfront.
The Giant first arrived in Salthouse Dock back in April 2012. Photo © Pete Carr
The Royal de Luxe giants were so popular that they returned to take over the city to enchant and delight us with their epic tales in 2014 and again in 2018. However did you know that their first visit to Liverpool in 2012 was inspired by a simple letter from our Archives Centre?
The story was inspired by a tragic letter sent 100 years ago by May Louise McMurray to her father William McMurray, a first class bedroom steward on the Titanic. The letter arrived in Southampton after Titanic had sailed so it was returned to the family. William, born in Birkenhead, did not survive the sinking.
You can read the full transcript of the letter below. The McMurrays are just one of the local families affected by the sinking of the Titanic who are featured in the exhibition Titanic and Liverpool: the untold story at Merseyside Maritime Museum. Originally opened to mark the centenary of the sinking, the exhibition has been a big draw for visitors ever since. 
Transcript of May Louise McMurray's letter (including errors as written)
60 Empress Road Kensington
Liverpool 13.4.12
Dear Father
It seems ages since I last seen you. I wish we where in Southampton with you it is very lonely without you Dear Father I have not been so very well I have had a a [sic] bad throat hoping I will soon get better for Mama worries so much little Ernie as not been so well but he as got better now hoping you are keeping well dada so ta love from Ivy and and [sic] Ernie thank dada for the presents love from all dada hoping to see you soon with love from Ivy and May and Ernie xxxxxxxxxx kisses for dada x
Dada this is my first letter