Going green in Bursa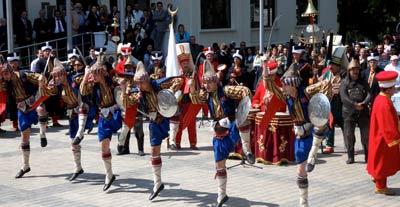 Hello there
As you can see from the photo, I've been travelling again, this time to Bursa in northwestern Turkey, a three hour plus minibus ride (plus a ferry crossing) from Istanbul. The reason for this exciting venture was that the International Slavery Museum had been shortlisted for the very prestigious European Museum of the Year Award, awarded by the European Museum Forum to a museum which offers an excellent example of innovation in museums.
Well I will not keep you in suspense; we did not win the top prize, which went to Salzburg Museum in Austria. There were also three museums who were specially commended, one of which, the Museum of Life Stories in, Speicher, Switzerland I thought particularly worthy. The artist involved in the project, HR Fricker, explained to me that in the public areas of a home for seniors, their lives are shown around them, through exhibits and documentation. This might well challenge people's view of what a museum is, which I think is a good thing. Of course I was disappointed at not even having been commended (by the amount of people who came up to me afterwards I think we were one of the favourites) but if success is also measured by fellow museum professionals wanting to work with you in the future, then the trip was well worth it. 
The judges' report noted that although the International Slavery Museum includes an enormous amount of information and emphasises the legacy of the transatlantic slave trade, the museum tried to tell too many stories. I do not believe we tell stories as such. We offer narratives of events which you can follow, sometimes chronological, sometimes thematic but we do not claim to be storytellers. What we do is connect the many aspects of transatlantic slavery - the trading, the traders and the enslaved Africans - into what we believe is a medium in which all types of visitors can relate. In the past European involvement in transatlantic slavery was often seen in an overtly economic sense, the museum has moved on from this and looks at the broader picture, including contemporary legacies of slavery. I don't expect everyone to agree with how we do this but it should not be assumed that this is common practice.
It is hard to be too disappointed though in a lovely place like Bursa, where the civic welcome was a sight to behold, with a number of traditional dances performed for us outside Bursa City Museum. Bursa is often called 'Yeşil Bursa' ('Green Bursa') in reference to its parks, gardens and surrounding forests. The rather large group of museum professionals (not sure what you call this, a pride, shoal etc? Answers on a postcard) were taken on a number of excursions, which to be honest were a bit too organised for my liking. I like to think of myself as a bit of an independent traveller (I am probably more Louis Theroux than Paul Theroux to be honest) but our every step was marshalled like a state visit. I have to say I think being followed by an ambulance at all times was a step too far, I mean, how rowdy can a group of museum professionals be!
One of the most beautiful sites was the aptly named 'Green Mosque' or 'Yesil Cami' with its fabulous carved marble doorway surrounded by some lush gardens. Also on the itinerary was a visit to several mausoleums of early Ottoman rulers, again in some very tranquil surroundings. An interesting afternoon was also had at the Karagöz Museum, which looks at the lives of famous Turkish shadow play characters who lived in Bursa. Think 'Punch and Judy' with dragons thrown in.  
For those of you who think that travelling to exciting and interesting locations as part of my job is totally stress free, think again. Especially when speaking of food – as a vegan it can be challenging when abroad. This turned out to be the case in Bursa, home of the İskender kebab (it takes its name from its inventor, İskender Efendi, who lived in Bursa in the late 19th century). Lets just say that there is not much for a vegan to look forward to at an Iskender restaurant! At least my hopes were not dashed, as they were at the main award ceremony dinner where I was eagerly awaiting my 'special salad' - as one of organisers called it. What exciting Turkish influence on the drab salad this could be I thought. Lettuce on a bed of lettuce is not my idea of special but maybe I was looking to be critical after we failed to win anything!
Bye for now.