Graffitiology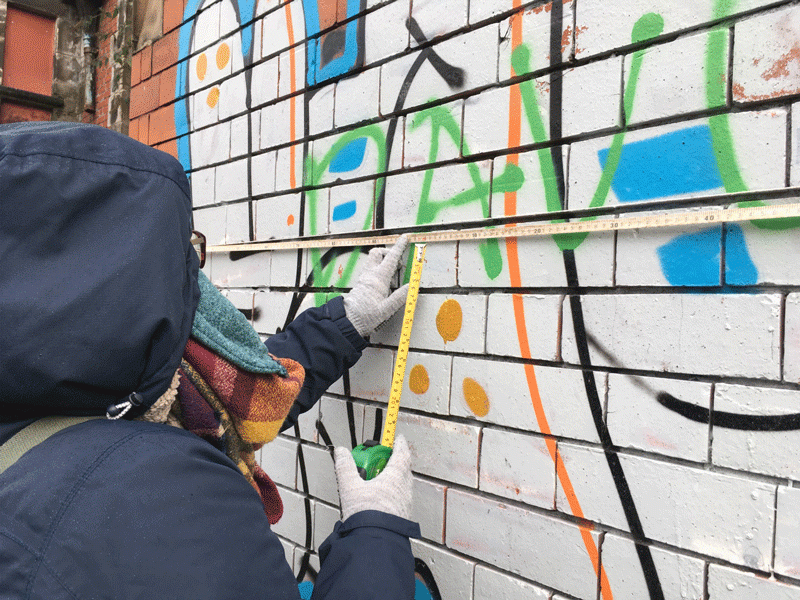 Museum of Liverpool archaeologists and Lister Steps volunteers taking part in graffiti recording. Recently the
archaeology team
have been working in partnership with
Lister Steps
; a community based childcare charity based in Tuebrook. We are exploring the history of
The Old Library
on Lister Drive, which is currently being renovated into a community hub by Lister Steps with support from Heritage Lottery Fund (HLF). Volunteers and archaeology staff have been using the modern graffiti at the rear of the building to learn archaeological skills and building recording techniques. By setting up a string and using measuring tapes our volunteers were able to accurately plot the graffiti using the same techniques which are used to draw an archaeological section.  The layers of graffiti paint are like stratigraphic layers, built up over time. Through careful excavation and recording archaeologists used stratigraphy to determine the sequence of events which occurred, in order to understand what has happened in the past. Although modern, the use of different layers of colored graffiti at Lister Steps allowed volunteers to understand these recording processes, with each layer representing an event in time. These recording skills will be put to use in March when the volunteers will return to take part in our community dig within the grounds of the old library.
Visible layers of stratigraphy excavated and recorded from Manchester Dock above which the Museum of Liverpool now sits. Each layer represents a tipping event where 'rubbish' including sugar moulds, pottery and clay pipes were tipped from a cart or barrow into the dock once it was no longer in use. Before we start to dig in March we are keen to explore some of the social history of the library and are looking for volunteer researchers to help explore links between the library and those who used it. You can sign up as a volunteer researcher and get involved with the project on the
Lister Steps website
.
By measuring from a level string line volunteers can draw an accurate representation of the layers of graffiti.