GREEK TRAGEDY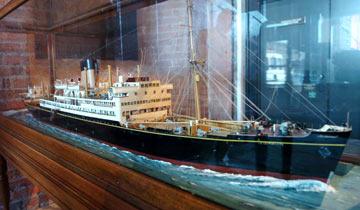 Image courtesy Liverpool Daily Post & Echo
This shipwreck happened just as I was starting my working life after leaving school and I still feel the sadness.
A ship sailed into new waters and sank due to a combination of terrible weather, bad luck and sheer stupidity.
I remember that people were particularly shocked because it involved holidaymakers enjoying the winter sun.
The big refrigerated truck loaded with oranges was driven on to the car ferry and parked next to the loading door.
The Heraklion set sail from Crete heading for Athens – a gale was blowing and the ship pitched and tossed.
It was the evening of 7 December 1966. Today the Greek ship would have been barred from sailing in such atrocious conditions but in those days it was up to the captain. Skippers were often under commercial pressure to sail.
The truck was either loosely secured or not tethered at all. As the journey progressed and the ship rolled more and more, the truck moved of its own accord.
Back and forth the empty vehicle went until it was crashing against the loading door like a great battering ram. By now it was the early hours of the morning and most people on board were either asleep or prostrated with sea-sickness.
With an enormous crashing sound the doors gave way and the truck plunged into the mountainous seas. Tons of foaming water came pouring into the ferry through the open door.
In less than 20 minutes the Heraklion capsized and 217 passengers and crew died – just 46 survived.
Among the dead was 24-year-old Michael Robert Hall King, a grandson of Lord Baden-Powell, founder of the Scouts.
Ironically, the truck that caused the disaster was found floating the following day. A Greek inquiry found the ship's owners – the Typaldos Line – guilty of negligence.
Heraklion was well-known in British shipping circles before moving to Greek ownership – she was originally the Bibby Line's passenger and cargo liner Leicestershire.
There is a 1:76 scale waterline model of the Leicestershire in the Liverpool World Gateway gallery at Merseyside Maritime Museum. She is depicted in her Bibby days complete with swimming pool.
Leicestershire and her sister ship Warwickshire could each accommodate 75 passengers plus cargo.
They soon lost money due to changing circumstances following the independence of Burma and Ceylon in 1948. As a result they were often chartered out to other companies. Leicestershire was sold to her new Greek owners the year before she sank.
Founded in 1807 in Liverpool - where it is still based - the Bibby Line (Bibby Brothers & Co) may be the oldest independent shipping company in the world.
A new Maritime Tale by Stephen Guy appears every Saturday in the Liverpool Echo. A paperback – Mersey Maritime Tales (£3.99) – is available from the museum, newsagents and bookshops.