A green resistance: plants and enslavement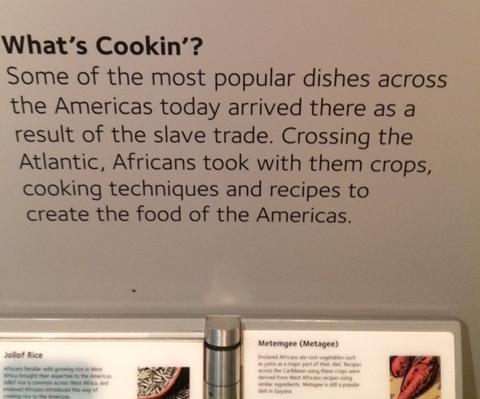 The design for this year's Slavery Remembrance Day posters Have you seen the new design for our
Slavery Remembrance Day
posters and leaflets for 2018? They are all around the city centre and waterfront promoting Slavery Remembrance Day and the Unity Carnival. A big, pale yellow flower sits in the middle of a black background. Have you wondered why we have used this image? There are two reasons: First, and for the first year ever, we have added a theme to the programme of celebration, commemoration and remembrance we hold annually for Slavery Remembrance Day. And that theme is 'growth'. Many of our events will explore that idea this year. This year's design is related to growth, because the pale yellow flower on our new posters is actually the okra flower. We all know, and many of us will eat, the green vegetable - but maybe don't recognise the flower.  Expert Geri Augusto came to speak at the Museum recently and told us all about the fascinating history of enslaved Africans and how one of their many forms of resistance was through plants. She told us lots of amazing facts and her video is below. She explained that, although we often talk about the enslaved Africans forced to labour on plantations, we talk less about the enslaved people who took the initiative to develop very small plots of land to raise vegetables, medicinal plants and even flowers.
A selection of recipes we have on display at the International Slavery Museum. Some of the most popular dishes of the Americas arrived there as a result of the Transatlantic Slave Trade. Apparently okra is one of only about 20-25 plants originally indigenous to Africa that made it over the crossing during the Transatlantic Slave Trade. And it was one of the crops grown to subsidise the paltry diet on a plantation. Its flowers and leaves were used to make tea. But mainly the pod itself was a nourishing and familiar food and the base of many West African dishes that are still popular around the world today. Growing crops is an important part of the history of enslavement because it is a form of resistance – by growing crops, the enslaved could stay alive. And survival is always an act of resistance. So the okra flower on this year's posters celebrates the survival of culture, commemorates the resistance of the enslaved and, through the immediate Western understanding of a flower, also remembers all those men, women and children who died in the Transatlantic Slave Trade.
Please join us at this year's Slavery Remembrance Day events on Wednesday 22 and Thursday 23 August. Share food and celebrate resistance and African culture with us at the Unity Carnival on 22 August. Walk with us and stand with us at the Libation ceremony in remembrance on 23 August. If you are interested to know more about botany and enslavement, you can also join our special and free-to-attend sessions on 23 August - The Botany of Resistance, Roscoe the Botanist & Abolitionist and Seeds of Escape. 
Geri Augusto – the Importance of Okra to Enslaved People
Listen to expert Geri Augusto talking in full about the history of plants and enslavement. Here she talks about okra, as well as how crops moved during the Transatlantic Slave Trade, and were grown on plantations. Geri is Visiting Associate Professor of International and Public affairs at Brown University in the USA and a Watson Institute Faculty Fellow. We thank her for the information provided in this blog.