Guest blog: Grayson Perry on The Vanity of Small Differences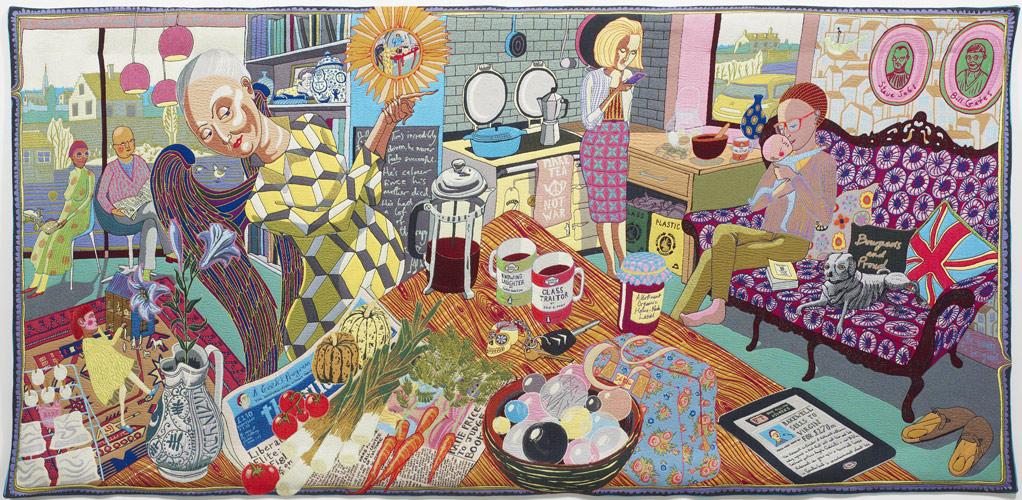 Artist, Grayson Perry I wanted the works to be large as I knew because of the TV series they would become very public artworks and a lot of people would want to see them at one time. They are also very bold and colourful because after working for so many years on ceramics where colour is often quite muted and difficult to predict and scale is necessarily small I enjoy the freedom and control offered by the medium. Also the tapestries needed to be large to accommodate the detail. Most of my work involves a lot of detail; it is part of my style. In order for a tapestry to hold a lot of detail it needs to be large as in terms of resolution they are only about 75 pixels per inch, compared to 300 for normal printing. Though I was surprised how small details were picked up by the weave such as the text on the newspaper in the fourth tapestry 'The Annunciation of the Virgin Deal' (pictured below). Intricate detail, which is all very relevant to the narrative, encourages people to stay looking longer. I wanted these tapestries to be read like a short story, just as Hogarth's print series 'The Rake's Progress' was. Those eight paintings were the principle inspiration for my tapestries.
The Annunciation of the Virgin Deal, 2012 © Grayson Perry. Photography © Stephen White Taste, which was the central theme beneath my works, is a subject loaded with potential humiliation and often an excuse for ridicule. I wanted to some extent to extract the poison from the subject whilst acknowledging that the contemporary class system is a rich source of fun. Humour is a hugely important part of my work. It is central to being British and I always want to reflect the culture I belong to. In Britain we are very wary of earnestness and overt displays of sincerity so I always prefer tragedy to be bitter sweet. If the works provoke any warm emotions then I am very pleased but I do not set out to move the audience, I only set out to reflect my own feelings about the subject and the narrative. Having said that, social mobility is a theme very close to my heart. I don't think an artist has a duty to do anything, but I do though think it is very important for an artist to be unafraid of making work that is specific to their time and place. Any attempts at timeless, globally appealing art usually look kitsch and are doomed to become dated and irrelevant faster than anything. I hope people will look back and see a fairly recognisable picture of Britain in the 2010's portrayed in these works. Not many people seem to notice that even though Tim's life is portrayed over fifty years or so, all the scenes take place in 2012! I am fascinated by contemporary society and the forces that affect our behaviour. I am particularly concerned with those processes that we are not so aware of, the often unconscious ones, like taste and class. Grayson Perry's '
The Vanity of Small Differences
' opens for
LightNight
at the
Walker Art Gallery
from 4pm today (Friday 16 May) and runs until 10 Aug. Check our website for free
events
.