"He was a fine fellow" - Henry T Wilde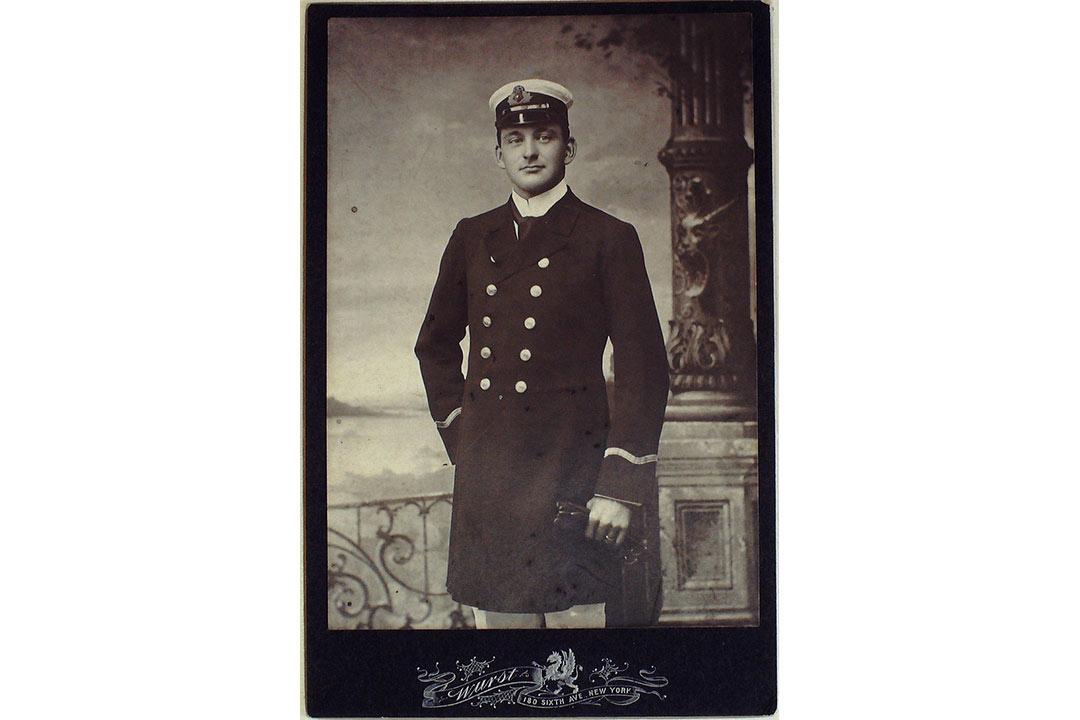 Henry T Wilde about 1900. Image from a private collection, not to be reproduced without permission.
At the time of her sinking RMS Titanic was the largest passenger ship in the world and the dramatic circumstances of her demise reverberated around the globe. In 1910 one ship in every 100 was lost, yet by 1912 technological advancements in shipbuilding led Titanic's owners White Star Line to believe she was unsinkable. This was not to be the case. Four days into her maiden voyage from Southampton to New York she struck an iceberg south-east of Newfoundland, and sank two hours and forty minutes later with the loss of over 1500 lives.
The sinking of Titanic is as famous as it is tragic and as such the individual impact of the disaster can be overshadowed by the catastrophic nature of the event. Some of Chief Officer Henry Wilde's personal effects from a private collection were included in a temporary display in 2012 as part of our exhibition Titanic and Liverpool: the untold story. The display included his White Star Line cap, a pair of epaulettes and three letters; two to his eldest daughter Jennie and one to his children's nanny. We were very privileged and honoured to be able to display these items and I would like to share his story with you.
Henry's early career
Henry Tingle Wilde was born on 21 September, 1872 and grew up in Walton, Liverpool. Aged 17 he began his apprenticeship with Messers. James Chambers & Co., Liverpool. Completing this in 1893 he stayed with the company and served as third mate on the Greystoke Castle and later as third mate on the Hornsby Castle.
After gaining his second mate's certificate he joined the Maranhan Steamship Company aboard the SS Brunswick serving as third officer and then second officer. By 1896 he had obtained his masters certificate and had transferred to Elder Dempster lines SS Europa as second officer.
In July 1897 he joined White Star Line and rose steadily through the ranks serving on several ships. Whilst with White Star he obtained his extra masters certificate in the Merchant Navy and was made a Lieutenant in the Royal Naval Reserve in 1904.
A caring father
As Henry Wilde's career had gone from strength to strength so had his personal life. On 3 August 1898 Henry had married Mary Catherine Jones in the Welsh Calvinistic Methodist Chapel on Princes Road, Liverpool. Their first child Jane Elizabeth (Jennie) was born in 1900 followed by Henry Owen (Harry) in 1904, George Arnold (Arnold) in 1906 and Annie in 1908.
Unfortunately this happy time did not last. On 19 November 1910 Mary gave birth to twin boys, Archie and Richard, who both sadly died shortly after birth, Archie aged 14 days and Richard 25 days. Mary herself passed away on Christmas Eve 1910. This devastating event left Henry Wilde a widower with four young children.
At this time the family were living at 25 Grey Road, Walton. Henry altered his last will and testament in January 1911 to ensure that his children were cared for in the event of his death. His brothers in law Richard Owen Jones and Owen Jones Williams were to be the Executor and Trustees of his will and estate. However one of the most poignant sentences is:
"I appoint my sister in law Mrs Annie Jones Williams to act with my trustees as the Guardian of my children during their minority and to be consulted by my trustees as to the education and advancement in life of my children until the youngest child attains the age of twenty one years..."
Referring to Annie Jones Williams, Henry asserts "...in whose discretion I repose complete confidence as to their domestic comfort and education..." Tragically this was to come into effect just over a year later.
"A very fine ship"
Henry had been hoping to return to Liverpool and take command of the Cymric and only found out that he was due to accompany Titanic on 9 April, the day before she sailed. On 11 April he wrote what would be his last letter, to his daughter Jennie, expressing his disappointment not to make it home to Liverpool and describes Titanic as "...a very fine ship an improvement on the Olympic in many ways I would like you to see her..."
Henry Wilde died in the sinking and his body, if recovered, was never identified. His, now orphaned, children were cared for as he had wished and their Trustees requested assistance from the National Disasters Relief Fund, which they later received. Charles Lightoller, referring to Henry Wilde in a letter in 1935 stated,
"He was a fine fellow and one for whom I had the greatest admiration. It was frightfully hard luck on him that he should have been temporarily transferred from the Olympic to the Titanic for just one voyage."