Here there be witches?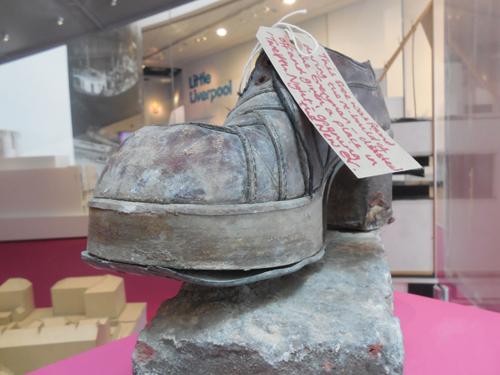 Shoe discovered inside a wall during building works at the Everyman Theatre At the Museum of Liverpool there's currently a
display
to celebrate the
Everyman Theatre's
year as
RIBA Stirling Prize
winner. One of the items on display is a shoe which was found inside a wall when the 1975-77 Everyman Theatre building was being demolished. The shoe appears to date from the period of construction in the 1970s, but how and why it was within the wall is shrouded in mystery. It's possible that this represents a modern re-invention of a historic practice of placing shoes inside walls of buildings as protection from witches. This custom was common across Britain from the Tudor period onwards, and was popular through to the 18th and 19th centuries. Shoes were hidden within the structure of the building, often near chimneys or doors where it was felt a witch or an evil spirit might be able to enter the building. Shoe historian
June Swann
describes that through the centuries shoes have been symbols of authority, fertility and luck. In America there are even 19th and early 20th century examples of shoes being carved on coffins to keep the devil away from the deceased. Shoes have been found built into the structure of houses, farms, churches, town halls, hotels, pubs, museums and theatres. Around 2000 examples of concealed shoes which have been found in buildings in England, America and Europe are recorded on a database held by
Northhampton Museums
.
The shoe is a fashionable 1970s platform There is a lot of superstition in theatres, when
Macbeth
was performed at the Everyman in 2011 I'm sure the actors were careful to describe it as "the Scottish play" rather than naming it when inside the theatre; no-one would have wished the actors "good luck" before they went on stage, instead suggesting they "break a leg"; no-one would have been heard whistling; and where money is required in props it would be fake not real. So, it seems appropriate that an old custom to frighten away witches might have been re-ignited in a Liverpool theatre in the 1970s! After its discovery the shoe was used as a prop in the performance of
Twelfth Night
when the Everyman re-opened.