Himalayan Objects on Tour!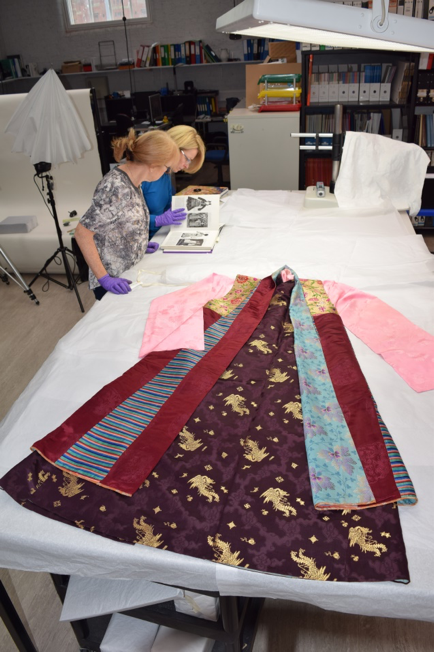 Part of the ongoing work we do here behind the scenes at World Museum involves dealing with loan requests from other museums. This usually happens when a museum is putting on an exhibition and they need extra objects from other collections to help tell their exhibition's story. Last year we received a request from Antonia Lovelace, then Curator of World Cultures at Leeds Museums and Galleries, to loan items for an exhibition called 'Himalayan Fashion' at Lotherton Hall. The exhibition is about the role of fashion and textiles in Himalayan cultures and includes key pieces from the internationally important collection at World Museum.
Some of these items have never been on display before such as the Tibetan outfits worn by Frederick Bailey and his wife Irma in the early 1900's. Emma Martin and Tracey Seddon researching how each piece of this Tibetan woman's outfit was worn. Antonia visited our collection stores in early 2017 to select items for the exhibition and she chose some beauties. The quality of the craftsmanship is apparent - silk shirts, paisley patterned robes, turquoise jewellery and embroidered accessories. They were obviously made for someone important; Frederick was the Political Officer of Sikkim, Bhutan and Tibet. He and Irma commissioned the making of these clothes to show the types of clothes worn by Tibetan aristocrats. The arrival of the official loan request letter started a chain reaction of prep work which included documenting and photographing each item. These images were to be used in the exhibition so had to be high quality. My skills in photography are good but not that good, so I decided to call in a professional – Keith, the National Museums Liverpool photographer.
Keith the photographer in action. Keith has been working for NML for many years and has photographed everything from classical sculpture to model boats. Without getting too technical, Keith's photography set up involves some specialised equipment made up of a big ladder, huge lights and a really rather fancy camera. He also used his expert knowledge to pick out the perfect backdrop to show off the textures and colours of the textiles. Whilst Keith concentrated on the photography set up, I focussed my attention on the costume set up. I'd already had discussions with Emma Martin, Senior Curator of Ethnology, and Tracey Seddon, Organics Conservator, about how this material should be photographed so I knew what to do. We had decided that to really bring these items to life they had to be photographed flat on the floor and in life-like poses. I tried to make it look artful but at the same time authentic, looking at period pictures for inspiration. Sleeves would have been worn long to show the wearer was of high status and didn't have to do any work, however, I decided to roll the sleeves up to show the lining to the robe and the beautiful silk shirt beneath.
The end result – a Tibetan man's outfit. You'd think it's easy to lay a few bits of fabric on the floor and make it look good - it's not. It takes patience, perseverance and the ability to not put great big dirty foot prints all over the pristine photographic paper! I painstakingly positioned each item of clothing. Slotting shirt sleeves in jacket arms, tying belts around waists and draping fabric delicately; building up each layer of clothing as it would have been worn. To add to my problems, some of the textiles are difficult to work with. Silk is so slippy and shows up the slightest wrinkle whereas the robes are thick with padding and so don't fold in the way you want them to. It was a bit of trial and error Once the costume was laid out, Keith worked his magic. I think the results look great. The Himalayan Fashion exhibition can be seen at Lotherton Hall until 26 October 2018.