A History of the World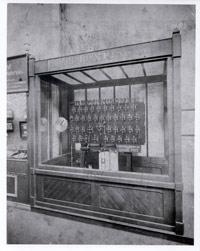 Last week I spent an afternoon filming with the BBC InsideOut North West team, working on a programme being aired on BBC One this evening.
The programme is part of A History of the World project, formed out of a unique partnership between the BBC, the British Museum and 350 museums and institutions across the country.
For this particular programme, presenter Andy Johnson heads to the Wirral in search of Bidston Observatory's Tide Prediction Machine, and our very own expert and curator of earth science Alan Bowden, was interviewed for the piece about National Museums Liverpool's own collection of objects acquired from Bidston Observatory.
Tune into BBC One tonight at 7:30pm to unearth the history of Bidston's Tide Prediction Machine, and learn of its place in the history of the North West region and its global connections.
You can also visit the Space and Time gallery at World Museum to learn more about our Bidston Observatory collection, and see some of the objects on display, and make sure you keep our blog and website for updates on A History of the World.