HMT Lancastria remembered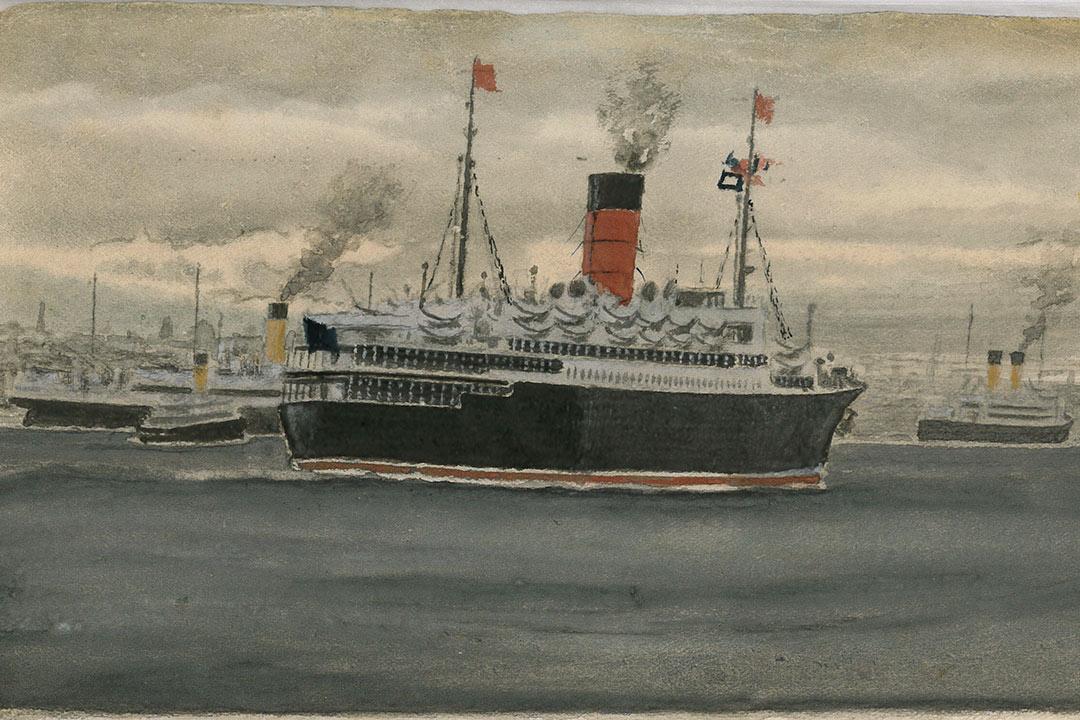 The loss of His Majesty's Troopship Lancastria on 17 June 1940 still resonates 80 years on from the disaster.
RMS Tyrrhenia
RMS Tyrrhenia was built in Glasgow by William Beardmore and launched in 1922; she began work for Cunard as a passenger liner crossing the Atlantic. The name Tyrrhenia proved problematic for her passengers to pronounce and was subsequently changed to Lancastria in 1924.
The sketch above by EW Barrett shows Tyrrhenia leaving Liverpool on 26 January 1924. The sketch is part of Merseyside Maritime Museum's collections.
During the 1930s Lancastria was mainly used for cruising until she was requisitioned by the Government in March 1940 for use as a troopship. Her hull was painted battleship grey and the famous Cunard colours were gone forever.
Operation Aerial
In June 1940, following the evacuation of Dunkirk and Le Havre, HMT Lancastria was sent to France to take part in Operation Aerial. This was the code name given to the continued evacuations of civilians and British forces from Western France.
On 17 June 1940 Lancastria anchored off the coast of St Nazaire and began to board thousands of troops and civilians. The situation was chaotic. The ship was designed to carry 2,200 passengers but there were at least 5,000 people on board, possibly as high as 9,000. Although full, Lancastria was told to wait until other ships had finished boarding to leave together with escorts.
Captain Rudolf Sharp in his report to the Admiralty, now held by the National Archives, wrote
"At 1.48pm the enemy flew over and dropped bombs which hit the Oronsay. After that we expected an air attack at any time."
At 3.45pm a Junkers 88 German bomber flew overhead and dropped four bombs onto the Lancastria causing massive destruction and devastation. She sank in just over 20 minutes with an estimated loss of 4,000 lives.
A survivor's account
Private Tom Woods, writing to his girlfriend (later wife) in October 1940 described the devastation that followed:
"I dived into the water, it was very difficult to swim owing to the amount of oil on the water."
In this letter he describes seeing a small tug in the distance:
"I made straight for it, after swimming for about three-quarters of an hour in which time I was asked for help a good many times, I was feeling tired I thought I could not swim any farther my limbs were going stiff, I thought of home, I struggled and struggled until I managed to turn on my back, then I could hear in the distance voices, (I am hit, I am hit) I knew then we had been machine gunned"
News suppressed
The sinking of the Lancastria caused the single largest loss of life in British maritime history. Coinciding with the fall of France and the possibility of invasion, Winston Churchill issued a 'D'-Notice, preventing publication of the disaster.
He feared knowledge of the incident would irreparably damage British moral but news eventually reached the British press on 26 July 1940.The initial suppression of information led survivors and their families to feeling forgotten.
They are not forgotten – we remember them.