Holding history
What inspires our displays at the Lady Lever Art Gallery? Decorative Arts curator Nicola Scott tells us how she has created a new display of pottery from National Museums Liverpool's collections, in response to De Morgan's ceramic designs and the Islamic art that originally influenced them.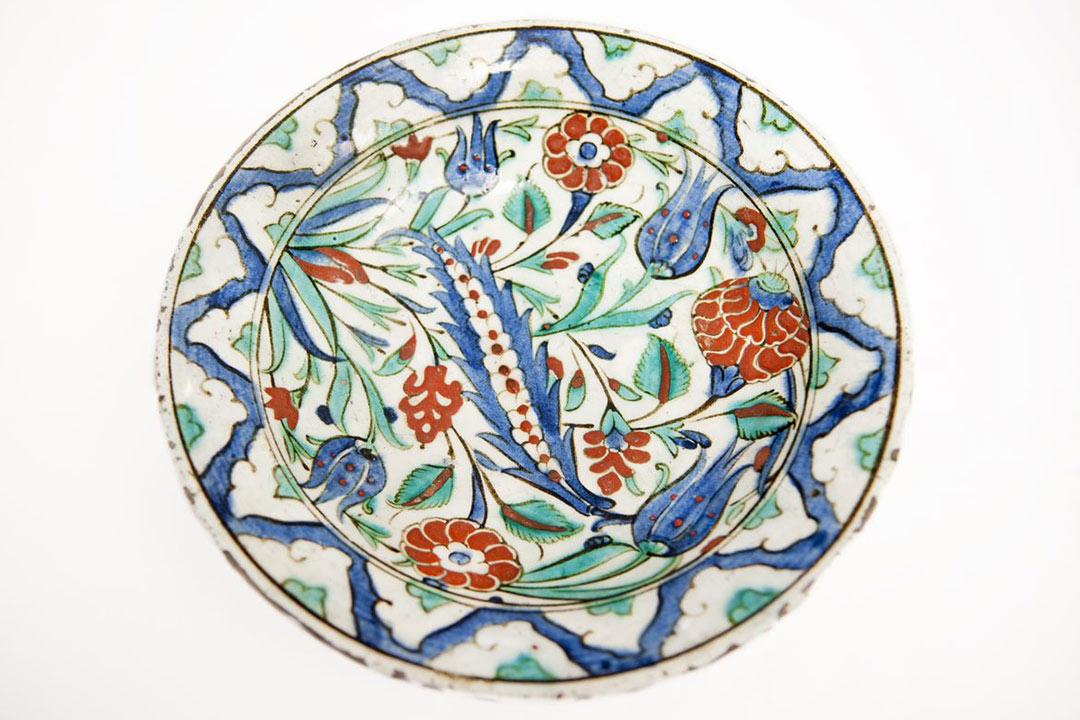 Living in London before moving to Liverpool, I spent many a happy Saturday exploring the V&A Museum in South Kensington. In this treasure house of decorative art, I entered another world in the ground floor galleries of the Islamic Middle East. 
These rooms evoke the cultures of great dynasties, once ruling empires from present-day Iraq, Iran, Turkey, Syria and across North Africa to southern Spain. I was drawn to the ceramics of 16th century Turkey, made in the town of Iznik. With their distinctive colour palette of vibrant turquoise, blue, green and red, they had magnetic appeal for me. The patterns that attracted me were naturalistic, free flowing, painted floral designs including carnations, roses and tulips. 
Little did I know at the time that one day I would have the chance to curate a display of such pottery myself.
Victorian inspiration
This year I have been working on the Sublime Symmetry: De Morgan Ceramics exhibition at the Lady Lever Art Gallery. I was amazed to learn that I had followed in De Morgan's footsteps to the 'Islamic Pottery' at the V&A. 
In the 1870s, there was widespread interest in Middle Eastern art. De Morgan visited what was then the South Kensington Museum with his friend William Morris to see the pottery and textiles there. At the time, less was known about the topic and the ceramics were all described as 'Persian'. Their studies had great influence on both men, Morris saying, "To us pattern-designers, Persia has become a Holy Land".
De Morgan began experimenting. He succeeded in re-creating the vibrant blue and turquoise of the pottery he saw at the V&A. In 1877 he won an important commission. The artist Lord Leighton had a huge collection of tiles from the Middle East and asked De Morgan to install them in the 'Arab Hall' at his London home. De Morgan made many additional tiles to complete the project. He was so successful that no one could tell the difference between these new ones and the originals.
Lord Leighton's Arab Hall. © Leighton House Museum, RBKC. Image courtesy of Will Pryce
After this, De Morgan developed a range of products called 'Persian Ware'. The influence of the Middle East is obvious in the colours and motifs.
De Morgan tiles from National Museums Liverpool's collections
De Morgan ran trials for other types of decoration inspired by the Middle East. Potters in Iraq first made lustreware more than 1000 years ago. These skilled artisans migrated throughout the Islamic world taking their secrets with them and exporting their wares throughout Europe. 
By 1600 this style had fallen from fashion and De Morgan became one of the first designers to revive it in the 19th century. Inspired by the ceramic artistry of the past, he fused historic ideas with his own inventions to create the distinctive style we recognise as uniquely his.
Griffin tile © De Morgan Foundation
Treasures from our collection
I searched our stores for examples of 'Islamic Pottery' with the aim of creating a display of the type of ceramics that inspired De Morgan. I was rewarded with several finds. 
I discovered a dish made at Iznik, possibly destined originally for the court of the Ottoman Sultans. What a thrill to see one close up and imagine it in the Topkapi Palace in Istanbul. The makers of the dish were inspired by Turkish flowers growing wild, conjuring up meadows of tulips gently moving in the wind. Many of De Morgan's designs feature motifs found on the Iznik ware.
Tiled panel © De Morgan Foundation
I also chose a bright, lustred dish emulating gold for the display. It was made by Muslim potters working in Valencia, Spain at the beginning of the 16th century. They were known for their superb skills in making top quality ceramics and exported large quantities to the rest of Europe. Magnificent dishes like this were not just for show and it may once have been used for a palace banquet.
Tiles were popular for decorating mosques, palaces and public buildings throughout the Islamic world. I discovered a richly-coloured hexagonal mosque tile from Persia (now Iran) in our collections. Dating from the 15th century, this is the original 'Persian Ware'.
Finally, I chose a tiny turquoise bowl from Syria. Dating from the 12th century it is cracked and worn but retains the power to fascinate. Completing the display, I felt that I was literally 'holding history' in my hands.
You can see the ceramics pictured on display at the Lady Lever Art Gallery in the Sublime Symmetry: De Morgan Ceramics exhibition and our accompanying display of pottery from National Museums Liverpool until 9 January 2022.