How did Eurovision become a global Queer phenomenon?
With bearded drag queens, pleas for equal marriage and Trans excellence, there have been many standout moments for LGBTQ+ representation throughout the history of Eurovision - Europe's favourite TV show.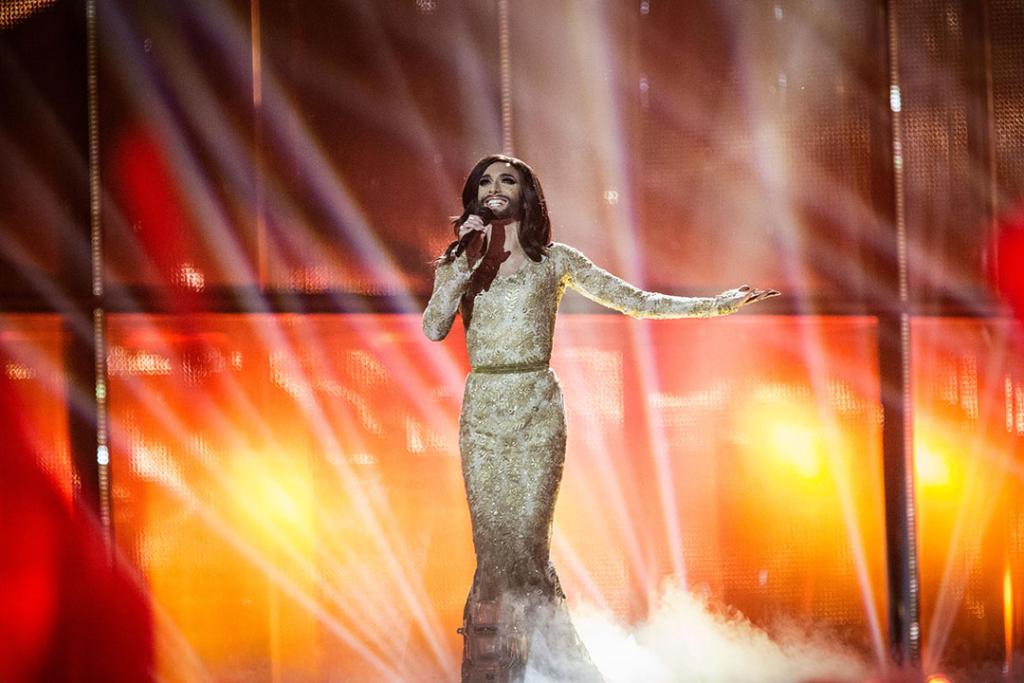 If you're European, it's unlikely that you would have grown up without some kind of memory of the Eurovision Song Contest. For some nations, the chance to represent your country at the contest is the highest accolade a singer could ask for – in fact, the prize for winning The Voice or The X Factor in places like Georgia and Malta is to represent the country at Eurovision.
In the UK, the contest has a more complicated legacy. For some, it's an annual celebration of unity, togetherness and freedom of expression, whereas for many others it passes them by as a simple, trite novelty.
As a Queer person, the contest has always formed a central part of my annual calendar. The costumes, stage production and insight into such a range of cultures made the contest a glitzy focal point for me throughout childhood – offering escapism and a break from everyday life growing up in the working-class suburbs of Liverpool – a reminder that there is more out there.
Like so many other things that acquire "gay icon" status, most of this is unintentional – there's no real guidebook for how to win Queer admiration. Often, it comes down to a mystical, hard to define combination of attributes that resonate with the reality of LGBTQ+ lives – whether it's effortless glamour, camp and flamboyance, or themes of overcoming struggle and standing stoically through the turmoils of life.
During the long history of the contest, which first hit TV screens across Europe in 1956, a number of standout moments have served as a reminder of the power that LGBTQ+ people can yield – as affirmation of the validity and strength that comes when we live our lives publicly and without restraint.
Early LGBTQ+ representation was thin on the ground, but one of the first examples came way back in 1961, with Luxembourg's entry "Nous les amoureux", or "Us Lovers" - a classic song of unrequited love which the singer later revealed was about a same sex couple that could never be. With lyrics such as "they would like to separate us, they would like to hinder us from being happy" and "the time will come when I will be able to love you without anyone talking about it", the song offers a heartbreaking insight into the often clandestine nature of Queer relationships in 1960s Europe.
The first openly transgender contestant in Eurovision history went on to win the whole contest. Representing Israel in 1998 with 'Diva', Dana International was a trailblazer – her extraordinary win happened at a time when trans people faced a litany of challenges across Europe, simply to live freely in public. In the context of the toxic dialogues that exist around trans people still to this day, Dana's win is a powerful reminder of the importance of representation.
For me, the LGBTQ+ moment that resonated most strongly is Conchita Wurst's win in 2014 with "Rise Like a Phoenix." A soaring ballad in the vein of a Bond classic or Shirley Bassey powerhouse performance, the song is Queer to its very core – touching on those classic "gay icon themes" of overcoming adversity, resilience and fighting against the current. Conchita took a resounding – and for many, unexpected – win. Drag queens had not historically done particularly well at the contest and it was considered at the time that the image of a fierce, bearded queen would be too much for audiences in some of the more conservative pockets of Europe.
One of the most powerful things about this win is that this idea was largely unfounded. As the results rolled in, Conchita racked up points from countries such as Russia, Georgia and Hungary – places not generally noted for their progressive stances on LGBTQ+ issues.
Eurovision's status as a cult Queer phenomenon continues to grow. In the previous two years, we've seen Trans YouTuber NikkieTutorials host the show in Rotterdam in 2021 and LGBTQ+ legend Mika host and perform last year in Turin.

With a two-week long bumper festival of events planned for Liverpool's hosting duties, it's certain that the city will become a continent-wide epicentre for the LGBTQ+ community this May.

You can find out about all our Eurovision and EuroFestival plans on our Eurovision hub.

Let the Eurovision Song Contest begin!