How do you research the history of a street?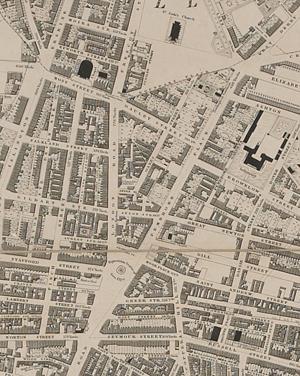 Detail from Gage's Map of Liverpool, 1835, showing Pembroke Place
The Museum of Liverpool's current project Galkoff's and the Secret Life of Pembroke Place is exploring the history of Pembroke Place with our partners, Liverpool School of Tropical Medicine – long term 'residents' of the street. Volunteers are working with us to explore this history – but where do you start learning about a whole street and its long past? To understand the physical layout and changes historic maps are a really important starting point. Gathering a series of maps drawn at different times can tell us how long the street's been there, any changes in name, and when buildings start to be built on the street.
Pembroke Place is clearly drawn on the Eyes' Map of 1796, but at this time its labelled as 'Road to Wavertree' – it is named 'Pembroke Place' by the time of the 1835 Gage Map. This map also shows some of the oldest buildings on the street. These include the Georgian house now the Little Georgian Day Nursery, and the house which was later to become Galkoff's butcher's shop. Once we know what was where and when we can start to 'populate' the story of the street – learning about the people who lived and worked in the area, and something of their lives.
To do this census research is vital. From 1801 a census has been taken every decade, with the exception of 1941 when it wasn't taken because of the Second World War. From 1841 the census records the individual names of every person living at an address, so we can start to see who was where and how they moved around. Alongside census information, records associated with churches and other religious institutions record some life events. On Pembroke Place St Silas' Church would have been a major landscape feature from 1843 until it was demolished after bomb damage in 1943. The records of this church are at the Liverpool Record Office and are likely to reveal some interesting information for us.
To understand more about what people did, and what they'd have seen walking along the street in the past we can use other archive sources. Gore's (and other) Street Directories record the businesses at Liverpool addresses from 1766 onwards. Alongside these there might be artistic representations or latterly photographs of a street. Some of the most interesting events on a street might have appeared in the newspapers. Searching historic newspapers can tell us about some of the more newsworthy events on a street – and they're likely to be some of the stories we still find interesting!
As we move into the 20th century personal memories are a unique source of information. Historians capture 'oral histories' recording a person speaking about their life and memories. We had hundreds of these in the collections of the Museum of Liverpool, and they are an amazing resource for understanding what life was like in the past. There is so much to explore, and so many stories to uncover that it's a big task to explore a street.  But it's well worth it to reveal the changing nature of a place through time, and capture it for the future!