"I try to paint almost every day" - artist interview, Ira Hoffecker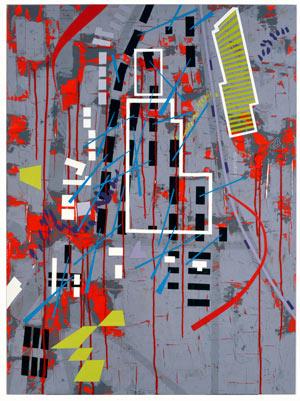 Ira Hoffecker We've got an
exciting program of events
planned for the
John Moores Painting Prize
2016 and we're kicking it all off  with our Talk Tuesday series. This Tuesday we'll have an artist talk by Ira Hoffecker, whose work 'Camp Moschendorf II' explores "...the dark Nazi history of Germany". Find out a little more about the artist and her way of working in this guest blog and don't miss
Ira's talk at 1pm on Tuesday 12 July
, at the Walker Art Gallery.
What made you enter the John Moores?
I heard about the prize when I moved to Cheltenham to do my Bachelor of Fine Arts at the University of Gloucestershire. It is a very prestigious prize and during our course we were encouraged us to enter the John Moores Painting Prize.
How does it feel to be a selected artist for the John Moores?
It is an incredible honor to have been shortlisted for the prize. It makes me really proud. Especially this painting is a relatively dark work with a difficult composition. It talks about a former Nazi labour camp during WWII in Germany.
Tell us about your studio...
I try to paint almost every day. At the moment, during the MFA studies this is a bit more difficult, there is a lot of research, writing and other art mediums involved as well. Spending time in the studio, however, is like the best thing I can imagine to do. I am very tactile and working with paint and focusing on this creative process is very fulfilling. Spending time in my studio is a gift and I am thankful for the privilege to be able to work in the arts.
'Camp Moschendorf II' by Ira Hoffecker
What inspires you?
I am inspired by history and how historic events had an impact on the structure and architecture of our cities. I am interested in the different identities certain places take on over a period of time. Before I start a painting I do a lot of research studying maps and the history of a place, but I am also interested in how a place feels, in its atmosphere, so walking the streets is a very important part of my research.
Why paint?
Painting is my favourite medium to work with. In the past I have also worked with sculpture and installation and now in my MFA studies also work with sound and video. Painting however is very different. I enjoy to intertwine the meaning with abstraction.
What do you hope visitors will take away from your work in the John Moores? Do you hope for a certain reaction?
Well in this particular case, a painting that talks about the dark Nazi history of Germany, I hope that visitors will know that I find it important to come to terms with events and work through our identities of the past. Instead of trying to forget and suppress it is important to remember. Only if we accept our past as part of our heritage and learn from it, can we be responsible citizens in the present.