I was Born to Be Free - poem by Kenneth Samuels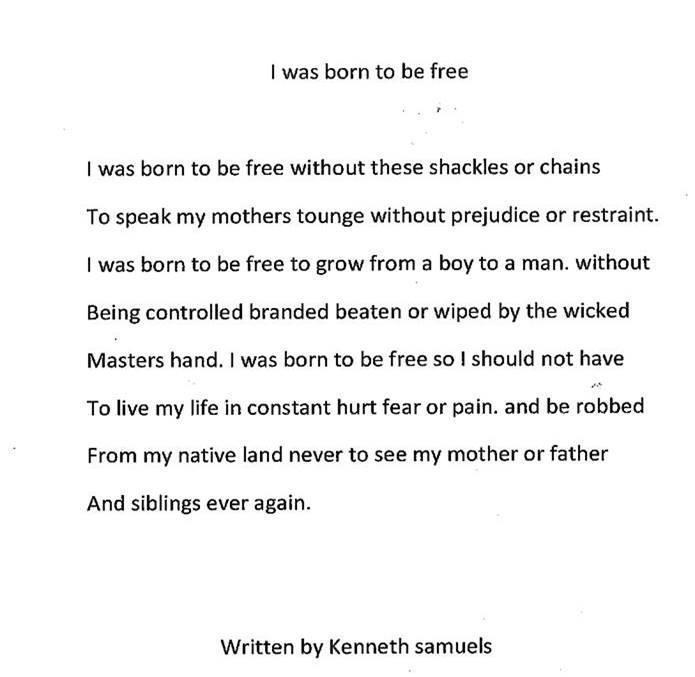 The Museum is looking ahead to Slavery Remembrance Day on 23 August. A crucial event in the fight to end the European transatlantic slave trade happened on this date in 1791, when there was an uprising of enslaved Africans on the island of Saint Domingue (modern Haiti). 
Thinking about this today, we are publishing a moving poem about slavery from Kenneth Samuels, a visitor to the Museum, who was actually born on 23 August – but 175 years after Haiti. Here is the poem with an introduction by Kenneth:
"I was born on 23 August 1966 in Homerton hospital in Hackney, East London. I come from a large family which consists of four sisters and two brothers, including myself. I am the youngest of them all - in Jamaica they call the last child the wash belly, I don't know why.
"I wrote the poem to reflect the thoughts of being taken out of a continent and being taken away from your biological family and having your identity wiped out. I also have a big interest in this particular subject.
"This subject is very important to me is because it's a part of who I am today as a person and to every other Afro/Carribean and to every other African/American person, to know what our ancestors had to endure and overcome for another generation to be here today to carry on the teachings of the history of slavery and to ensure that this barbaric event will never occur again:
Find out about the free events at the Museum for Slavery Remembrance Day here.