Seven iconic Bridgerton fashion moments to get you fired up for season two
From demure debutante dresses to bold brocade scene-stealers, we look back at Bridgerton's most iconic fashion moments so far.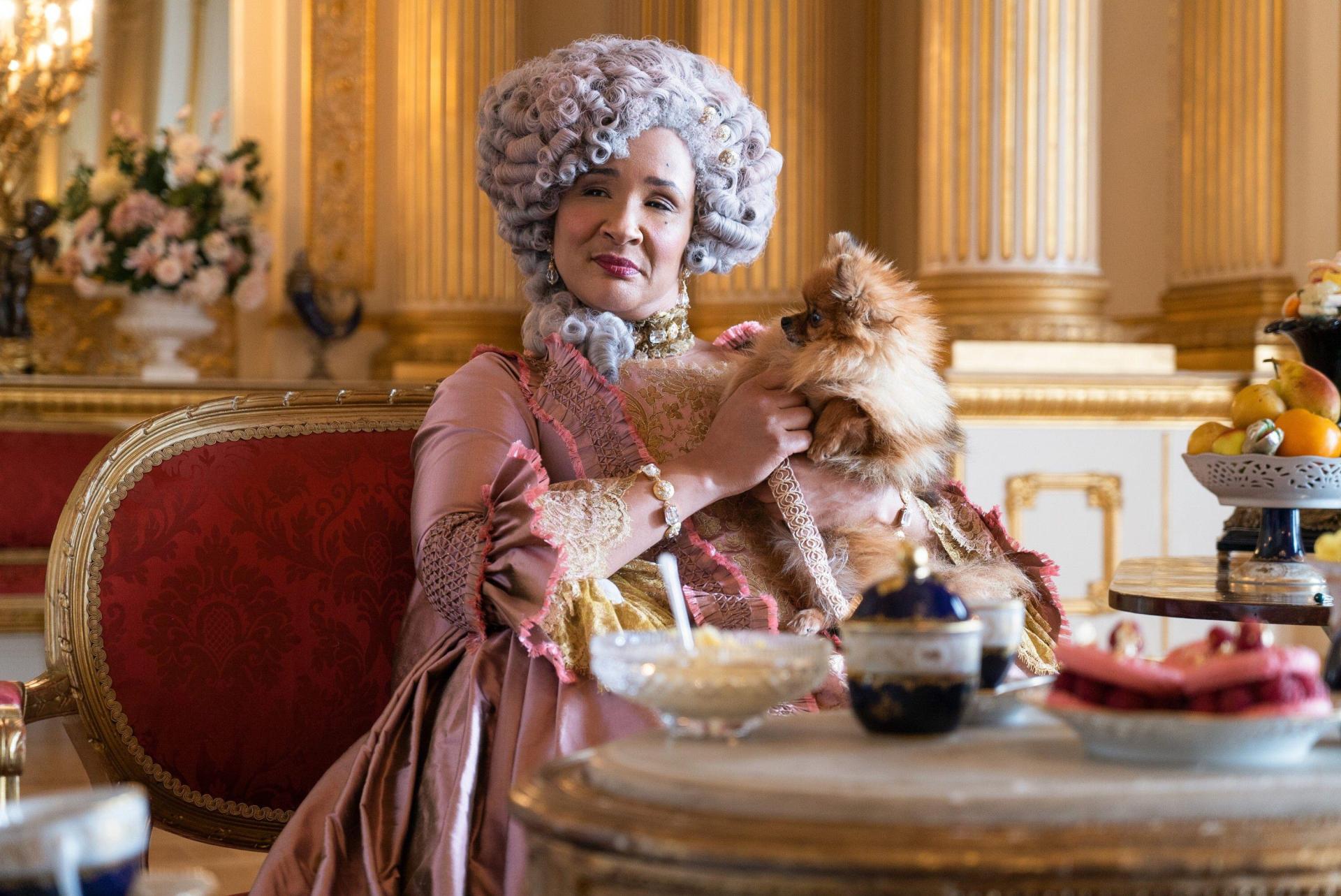 The first season of Bridgerton careered onto our screens with grandeur and pomp, stolen glances and careless whispers, and a good serving of questionable historical accuracy. It's an unapologetically fun Regency-inspired romp.
In the first season we were captivated by the 'will they won't they' story of Daphne and the Duke and the clandestine mystery of Lady Whistledown. But the attraction of Bridgerton was more than romance, scandal, and betrayal. It was the incredible costumes. The empire waists, the puffed sleeve ballgowns, the outlandish tiaras and sumptuous lace. We were smitten. 
With season two just around the corner, we thought we'd have a look back at some of our favourite looks from season one. 

!!Warning: may contain spoilers and scenes of intense brooding!!  
Daphne Bridgerton's demure debutante
Queen Charlotte called this look 'flawless' and who are we to disagree? The classic empire-waist, ivory satin and gold details got heads turning, and tongues wagging, as Daphne was introduced to viewers and society in elegant style.   
The Featheringtons' picnic attire 
From the subtle to the stupendous. Bold, bright, and just the right side of brash, this picnic ensemble was possibly the eclectic Featheringtons' finest hour. Pushed into a corner we'd pick Portia's long-sleeve brocade number with sweetheart neckline as a particular highlight. Using her finery to show her wealth and status in true Regency style. 
When the Queen struck gold
All hail the Queen and her royally incredible outfits. Swathes of golden fabric and a silver brocade petticoat stole the show as she oversaw some mild flirting from Daphne and the Duke. All perfectly accessorised with some remarkably well-behaved pomeranians. Perfect.  
Penelope Featherington's bold lace
When you're hiding in plain sight you'd be forgiven for thinking subtlety would be the order of the day, but Penelope 'Lady Whistledown' Featherington didn't let her undercover operations hold her back from some pretty wild fashion choices. Take this floral lace, puff sleeves, mustard shawl, polka dot gloves, feather headdress, bejewelled necklace number – and all for an afternoon stroll. Colours lurid enough to have caused a scandal in their own right in real Regency times.
Cousin Marina's yellow head turner 
Distant Featherington cousin Marina caused quite a stir when she attended the Danbury Ball in this understated but eye-catching lace dress. Empire waist, check, delicate tulle lining, check, pretty embroidery, check, furious reaction from the Featheringtons when suitors called at the house for Marina and not the daughters, check.
Lady Danbury's diamond ball gown 
Lady Danbury rocked some iconic looks throughout the series, and this is one of her best. An elegant silver gown, lace collar and dripping in diamonds. A show-stopping look for the social powerhouse that she is.
Baby blue meets brocade 
The hand clutch, the locked eyes, the subtle embroidery, the glistening brocade. When the powder blue high-waisted dress met the metallic waistcoat, it was a match made in sartorial heaven. Romantic, classy and as swoon-inducing as the Duke himself.
Regency fashion inspo
Although undeniably beguiling, it's fair to say Bridgerton's Regencycore wardrobe isn't entirely historically accurate. There are nods to the true fashions of the time, but this is a fantasy world, where artistic licence is definitely used. In reality, white was one of the most popular colours in the Regency period and the almost neon choices of the Featheringtons would have raised an eyebrow or two. 
In our collections we've got some great examples of 18th and early 19th century pieces. Day wear, evening wear, shoes, hats, and accessories. Check out our fashion collection page to find out more.  

All Bridgerton images from Alamy.