Interview: Caroline Paige on transitioning in the Armed Forces
We talked to Caroline Paige about her experience of transitioning in the armed forces and the work she does today with the LGBTQ+ community.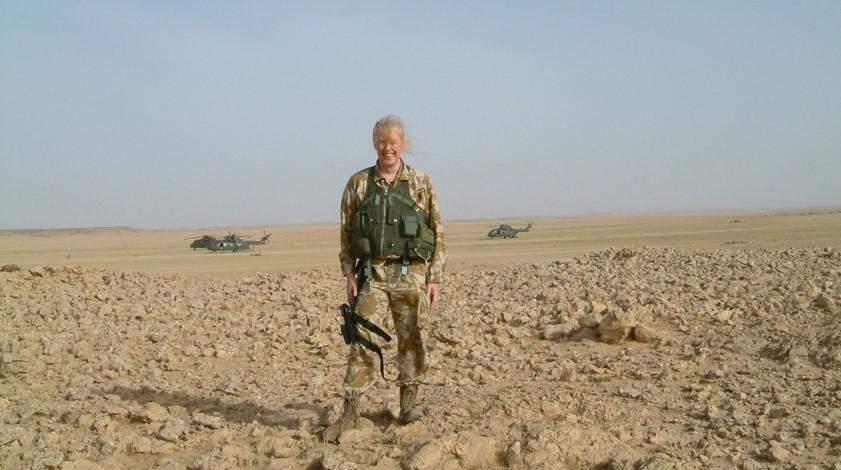 Tell me a bit about yourself, what you do etc?
I am currently keeping very busy as Joint Chief Executive Officer of a new charity called Fighting With Pride (FWP), along with my Joint CEO Craig Jones MBE, and our wonderful Board of Trustees, all LGBT+ Veterans or serving personnel. FWP was launched in January 2020 to support the health and wellbeing of LGBT+ Veterans, serving personnel and their families. We are the only LGBT+ charity in the UK doing this, and we have had an amazing year setting up and driving forward support for the community, working with the Government, the military charity sector and the NHS, throughout the UK, raising awareness and understanding to identify the best ways to reach out and provide support.  I have also been working with Outing the Past coordinating the Festival Gazette presentations for LGBT History Month and I'm working on separate projects for LGBT HM and International Women's Day. As a Patron of LCR Pride Foundation I am also keeping up with their amazing work.
What is your experience of living in Wallasey as a member of the LGBTQ+ community?
I was born in Wallasey, but my dad was in the Army and in my young years we lived on the Army bases, mostly in West Germany but also Malaysia. I realised I was different from around the age of five, my instinct told me I was a girl but I was born male and I didn't understand how that could be. When I accidentally outed myself to my dad his angry reaction made me feel broken and alone. I soon learned that gender identity wasn't something that could be switched off, but it had to be hidden. Invaluable home-alone opportunities gave me chance to explore my identity though, balancing the risk of discovery with those rare moments of feeling alive.
 
We settled in Moreton when I was thirteen. I went to school in Leasowe and our extended family all lived locally. I didn't know a local LGBTQ community existed, I always thought I must be the only one who had such feelings, and that was really hard. It would have been wonderful speaking to someone who might understand. I had gained an interest in aircraft and that led me to the Air Cadet Squadron at Hoylake, which proved a great distraction from my worries. I ended up flying gliders solo, aged fifteen, giving me much-needed self-confidence and inspiring me to apply for a Flying Scholarship, leading to a Private Pilot's Licence, still as a teenager, flying out of Speke airport. I wanted a flying career now so went to the RAF Careers office in Liverpool, London Road, and in January 1980 I joined the RAF!
Can you talk about your experience of transitioning whilst working in the Armed Forces?
The military was hostile to LGBT+ people in those days, so I had to hide my feelings. After a couple of years of training I became a Navigator flying Air Defence fighter aircraft, protecting the UK from Soviet long-range bombers during the Cold War. I intercepted a total of 34 Soviet aircraft at all times of the day and night. It was an amazing job, I did tours in defence of the Falkland Islands too, yet had I been suspected of being LGBT+ I would have immediately been thrown out. I would lose not just my job, income and house, but I knew I would lose my family and friends too, everything I loved. I lived two lives, publicly a 'Top Gun' aviator, and privately a life behind closed curtains in my house. In 1992 I volunteered for troop-carrying tactical helicopters. I was into my thirties and my identity was becoming increasingly harder to supress. During a tour with the United Nations in war-torn Bosnia, I realised I had to move my life forward and sought specialist medical assessments outside the military. These confirmed what I already knew, and after winning the wonderful support of my amazing sister, I handed the medical reports to an RAF medical officer at my base and expressed my need to transition gender, but to remain in service and remain flying. She cleared her day's appointments and began by listening. After speaking with RAF medical, employment and legal policy officers, and senior commanders, on 4th February 1999 I was given permission to stay in my job, and transition gender! I was absolutely overwhelmed though I knew it was only the start of a long and challenging journey.
 
The Armed Forces weren't ready for change back then. People didn't understand why I was allowed to stay in service when military law barred 'gay service' but was applied to transgender personnel too. I was met with demands to leave and lost close friends and family, but I also formed some wonderful new friendships that stood the test of time and the challenges I faced. The fact I was allowed to stay in was one thing, but being accepted was proving another. The ban was finally lifted on 12th Jan 2000, but after decades of indoctrination that LGBT+ people were not fit for military service, you can't change mindsets overnight.
What effect do you think this had on the Armed Forces?
After I was publicly outed on the front page of a national newspaper in August 2000, military and public opinions quickly declared me 'unfit to be in the Armed Forces', and 'a danger and liability to my colleagues'. They didn't have a clue what being transgender meant, but I knew I had to prove them wrong to move forward. That came with a tremendous sense of responsibility. Failing would reinforce their claims, so I was representing those who would follow too. I worked hard, helping bring the latest troop-carrying helicopter into RAF service and becoming the Squadron's leading helicopter tactics instructor and platform protection specialist. The more I engaged with people the more support I gained, and my Squadron was quite protective too. Military units like to look after their own, but it was when I stepped away from that support that I experienced the negatives. Most people were quietly supportive, but of course that means only hearing the negative voices, those who felt they had a right to harass me. After a couple of tours in Bosnia, I was in the first crews to deploy our aircraft to Iraq, where my skills and knowledge became essential. I won several awards for exceptional service, credited with enhancing aircraft operational safety, in Iraq and then Afghanistan and colleagues began asking for me to deploy with their detachments, proving beyond doubt that I wasn't a danger or liability. The key to acceptance was understanding and that came from education, so I volunteered my story as a positive role model to speak at diversity and inclusion events and conferences, and people began to realise that I was just a person living my life and doing my job. Change doesn't happen without allies though, and they must take a lot of credit, it would have been impossible without my amazing friends, colleagues and those who advocated change, but I witnessed the military transforming from a hostile place for LGBT+ people to one of proud inclusion. I never foresaw that when I joined.
How did you deal with people who wouldn't accept you for who you are?
The Armed Forces introduced a Zero Tolerance Harassment Policy but negative opinions and attitudes always find somewhere to hide, bravely emerging when they think they won't be confronted by witnesses. I never wanted to make formal complaints, I always thought I had lost the battle if I did that, and I didn't know if any challenges were through ignorance, hostile intent or a bad day. I preferred to react positively and openly. I found that just smiling nicely would usually disarm them, sometimes they would automatically smile back and that always made my day better, and maybe theirs too!
Do you think attitudes towards trans people have changed?
Yes, definitely, attitudes improved dramatically in the early noughties, as public awareness grew with the growth of information resources, such as the internet and then social media, and with the 2004 Gender Recognition Act becoming law. But good things always attract bad. There are people out there who don't like to see others do well for themselves and in the past couple of years antagonists seem to have gained a disproportionate voice in the press and media, trying to remove equality and security by turning society against trans people, using false information and scare-mongering, but also through ignorance. That's why education is so important, raising awareness of the other side of the story, the true side because that can only come from the people with the actual lived-experience. The press needs to understand that.
What advice would you give to someone at the beginning of their transitioning journey?
No one person's journey in life will be the same as another's, 7.84 billion people live on this wonderful planet and every single one of them is unique, and that's a good thing; but never think that means you are alone, or that everyone is against you. As quick as a minority are at putting people down, the majority are just slow on lifting them up, even though they want you to live your happiest life. Talking is good and there are some amazing support groups out there now, online or face-to-face, reach out to them, even if only to say hello first. Believe in yourself, be you, and be proud of you. You are not alone.