An Interview with Dorothy Downes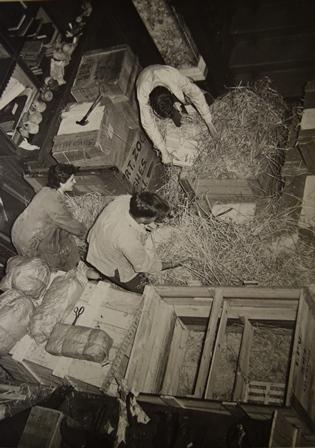 Olivia (front) interviewing Ellie (left), Dorothy (middle) and Martin (right). This week Lolo writes about meeting a member of staff who remembers the work that went into rebuilding the museum after the Blitz: Last week I wrote about the
Kingston Brooch
and how it avoided the Blitz and the train accident. I was inspired to write about the brooch after meeting Dr Dorothy Downes, who began working for Liverpool (now
World Museum)
in the 1960s. Last month, I had the pleasure to hear first hand Dorothy's lively account of what happened to the museum as it began to rebuild after the war. Dorothy, together with her husband Martin and her daughter Ellie (who is Curator of
Maritime Community History
for National Museums Liverpool), shared her valuable memories with us. Her vivid descriptions filled in some of the gaps in the archives providing us with new information for our on-line exhibition
Bombed Out! World Museum and the Blitz
.
Museum staff unpacking boxes of objects at Carnatic Hall, 1950s-60s. When Dorothy started work at the museum she recalled her first tasks at Carnatic Hall, in south Liverpool, a temporary, but messy home for the museum's collections:
I was trying to do everything… to sort things out and find out what has survived and put it into boxes … and take it out of those awful old cardboard boxes mostly they had just been chucked into anything you see.
Later, as the Keeper of Antiquities, Dorothy curated the museum's first post-war
Ancient Egypt
exhibition in the late 60s. In our conversation, she talked about her predecessor Elaine Tankard, the Keeper of Antiquities and sometime Director of Liverpool Museum after the war. After the Blitz, Miss Tankard dedicated herself to rebuilding the museum's collections and the museum itself. She acquired thousands of new objects from across the world for the devastated collections, organised ground-breaking exhibitions and was outspoken on the need to rebuild the museum. Both Dr Downes and Miss Tankard are indispensable figures in the history of the rebuilding of the museum and its collections.