Jet the dog – Liverpool superhero (to curators and small boys!)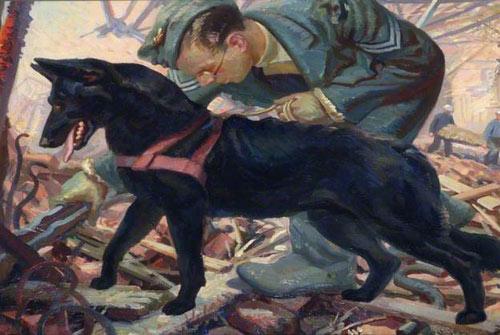 Painting of Jet by Alfred Kemp Wiffen, 1949. Presented by Mrs Babcock Cleaver in 1967, accession number WAG 7004
Jet has always been a hero close to my heart. I was initially introduced to his story whilst working on my first exhibition here at National Museums Liverpool - Spirit of the Blitz at Merseyside Maritime Museum in 2003. We included the bronze bust and oil painting shown here of Jet, from the Walker Art Gallery collections, which took pride of place. The exhibition even had a specially designed Jet the Dog children's trail. We also interviewed his owner's daughter, Lillias Ward about Jet's wartime heroics.
Jet was a black Alsatian from Garth Drive, Mossley Hill, L18, who was specially trained to search for people trapped in the rubble of bombed buildings during the Second World War. He saved countless lives for which he was awarded various medals, including the prestigious Dickin Medal by the PDSA, 12 January, 1945. Lillias Ward tells us more -
"The reason why he [Jet] got his medal was one particularly outstanding situation where a hotel in London had had a direct hit, and they thought they'd got everybody out... Jet's handler said 'there's someone there, up high... if Jet says that person's there, they're alive, by his behaviour'. And the woman was not only alive, but she lived, so that was lovely. Jet stood there and wouldn't go, and it was evidently about 11 and a half hours that he was there. I think it was that determination that got the imagination of the newspapers. And the PDSA gave him a medal, for all his work, but that was the outstanding one that probably attracted attention, and that was exciting".
'Jet of Iada' bust by Edna Rose, 1949, on display at the Museum of Liverpool. Accession number WAG 7003
He also later searched for miners in the Whitehaven Pit Disaster in 1947 and he was awarded the RSPCA's Medallion of Valor after saving the rescuers he was working with.
I told my three year old son all about Jet, and every time we go to Calderstone's Park (our favourite park) we go and 'say hello' to Jet at his memorial. So when we knew his lead, collar and medals were going to be on display in the Blitzed Brits exhibition at Imperial War Museum North in Manchester in 2015 we were very excited to see them. My son enjoyed the sights, sounds and smells of wartime Britain in the interactive exhibition, based on the Horrible Histories books and TV series - especially crawling through the black out tunnel in the 'Super Sniffers' section underneath where Jet's collar is displayed.
Further information about the medals on Jet's collar can be found on the Imperial War Museum website. I hope his amazing story is enjoyed by more generations to come. The Blitzed Brits exhibition was on display until 10 April 2016 at Imperial War Museum North. The bust of Jet is currently on display in The People's Republic gallery, Museum of Liverpool.
Jet's collar and lead with medals, at the Imperial War Museum North