Journey to Justice, DIY activism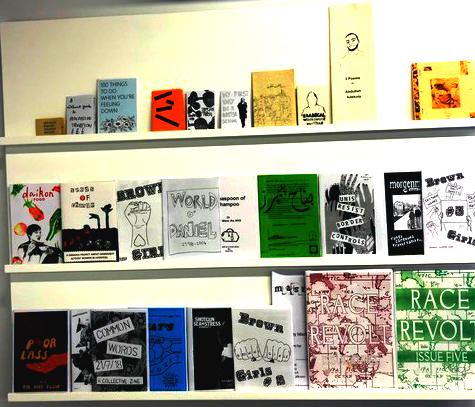 Over here zine fest poster In addition to celebrating historic civil rights activists, International Slavery Museum's exciting new exhibition
Journey to Justice
also aims to raise awareness of the ways that the fight for social justice can be continued and led by people like us. To showcase the fantastic work of activists working within DIY self-publishing networks, we invited Over Here Zine Fest to curate a selection of zines by BAME artists and writers. Here, Heena Patel discusses their involvement in organising Over Here Zine Fest and selecting the zines for the exhibition:
"
Curating a collection of zines by Black and Asian zine makers has brought up more emotions in me than I expected! The zines document of two decades of my life, which is almost half of it. Most old blog posts, discussions on message boards, emails from old accounts have all gone, but thankfully the zines remain. In my early twenties, I got involved in DIY organising. I got together with friends to put on gigs, events and club nights with a queer feminist focus. By doing this, I made connections with like-minded people around the country. Zines were always around, so they became part of my life. Everyone I knew had either made a zine or contributed to one. As time went on, I started to wonder why I was often the only brown face at the gig or the club. And why I felt like I had to push my Asian heritage into the background to be part of these alternative spaces. I found zines which celebrated people who looked like me, were brought up like me. Friends and people in my wider communities started making their own zines, documenting their experiences of racism in scenes which were supposed to include outsiders. Some of these zines are part of this collection. Those "Where are we? Where are our stories?" thoughts continued, and after a break from organising, I decided to organise a
zine fair
focusing on creators identifying as Black / Asian / person of colour.  It's taking place in October of this year. As part of this, I've been organising workshops for Black and Asian people who are new to zine-making and I've added some of these to the collection. The idea was to bring their perspectives, feelings and creativity to zine culture.
Zines on display in the Journey to Justice exhibition I'm proud of this collection because it reminds me of how many people I know that do good, thought-provoking work. It's physical evidence of the support networks we form as artists and activists. From looking through the zines, you can see how we inspire each other, feature in each other's work and motivate each other to carry on creating."
Journey to Justice
is at the International Slavery Museum until 7 April 2019. Over Here Zine Fest is a not-for-profit event showcasing the work of Black /  Asian / BAME / POC zine makers, artists, writers and activists.  Everyone is welcome to attend. The aim is to build self-sustaining alternative models for publishing, art, activism and collaboration in our communities. It is organised by a group of people identifying as Black /  Asian / BAME / POC who are based in the North of England. The event takes place on Saturday 13 October 2018 from 11am to 5pm in the Lincoln Suite of
Sachas Hotel
on Tib Street M4 1SH in the city centre of Manchester. Find out more here: http://overherezinefest.org/ Zines included in the Journey to Justice exhibition are made by: Rachel Aggs, Hamja Ahsan, Anonymous, Zulaikha Akmal, Abdullah Adekola, Osa Atoe, Black Lives Matter UK, Bradical Bradford, Dipali Das, Seleena Daye, Khair Din, Nancy Ibrahim, Nazmia Jamal, Saffa Khan, Deena Khan, Damon Kowarsky, MissTer Scratch, Isy Morgenmuffel, Heena Patel, Rainbow Noir Manchester, Humaira Saeed, Sisters Uncut, Unis Resist Border Controls.