Justicia justice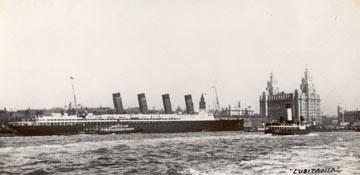 I came across this story while reading about the conflict at sea during the First World War and was filled with gloom.
This liner seemed to have been earmarked for destruction from the start and was sunk even when under the protection of warships. Her brief life had been blighted by the misfortunes of other great ships.
The 32,234-ton Justicia was built for the Dutch Holland America Line at Belfast's famous Harland & Wolff shipyard and launched just weeks before war broke out.
She was bought by the British Government but because of war shortages she was not completed until 1917 and named Justicia.
She was originally destined to be a replacement for the Lusitania (pictured) which had been torpedoed and sunk by a German U-boat submarine in May 1915 with the loss of 1,200 lives.
Cunard was experiencing manning problems so Justicia went to the White Star Line as a troopship because it had a crew available from the Britannic, Titanic's sister ship sunk by a German mine.
Justicia was painted in camouflage paint, in common with other troopships, and worked successfully for a time in this role.  
In July 1918 she was travelling unladen from Belfast to New York escorted by destroyers. Justicia was torpedoed by the German submarine UB-64 23 miles south of Skerryvore lighthouse, Scotland.
Her watertight doors were closed, preventing her from sinking, and she was taken in tow by the tug HMS Sonia. It was intended to beach her in shallow water.
However, another submarine – the UB-124 – caught up and fired two more torpedoes which struck her side. Justicia sank surrounded by 30 Royal Naval and other vessels. Most of the crew had been taken off but 16 engine room personnel died. The UB-124 was sunk by gunfire from three Royal Navy warships.  
The Lusitania was eventually replaced by the Imperator, known as the German Titanic. She was handed over as part of war reparations and became the Cunard flagship, later renamed Berengaria.
There are contrasting models of the Berengaria and Lusitania in the Merseyside Maritime Museum.
The Lusitania waterline model is just three feet long and was made by James McKee, the ship's carpenter from 1908 to 1915. He used a piece of damaged teak handrail from the ship to make the model's hull.
McKee did not sail on the Lusitania's final voyage. He left the model unfinished and it was completed for the museum by his son John in 1982.
A new Maritime Tale by Stephen Guy appears every Saturday in the Liverpool Echo. A paperback – Mersey Maritime Tales (£3.99) – is available from the museum, newsagents, bookshops or from the Mersey Shop website (£1 p&p UK).