Knock knock!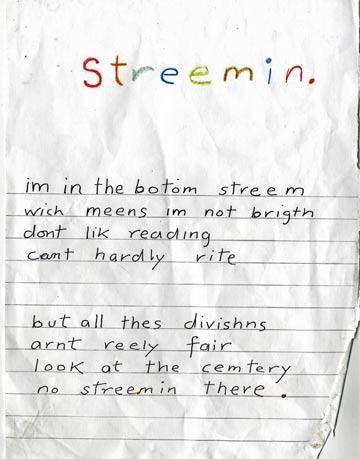 Liverpool's creative talent is celebrated in the displays and exhibitions at the Museum of Liverpool. One exhibition in particular has inspired a poetic response, as Claire Hunter, assistant curator of urban history, explains: "We have had a very creative response to the 'Liverpool Doors' exhibition, which is currently on display at Museum of Liverpool.
'Liverpool Doors'
is an artistic collaboration between legendary poet Roger McGough, book artist Mark Cockram and students from Liverpool John Moores University's School of Art and Design. Doors from across the city were kindly donated to Roger in order to create this unique display of art and poetry. It was his intention for the exhibition to spark the literary imagination of the people of Liverpool and last week one of our visitors left this copy of another poem by Roger McGough, entitled 'Streemin', next to the 'Writer's Block' door." If, like this visitor, you are feeling inspired, then why not share one of your favourite poems with us? Or you might be interested in the free events that are taking place in all of our venues as part of the
In Other Words literary festival
from 23 April to 19 May. Poem transcript:
Streemin
im in the botom streem wich meens im not brigth dont lik reading cant hardly rite but all thes divishns arnt reely fair look at the cemtery no streemin there.