Kongo figure at the Met Museum, New York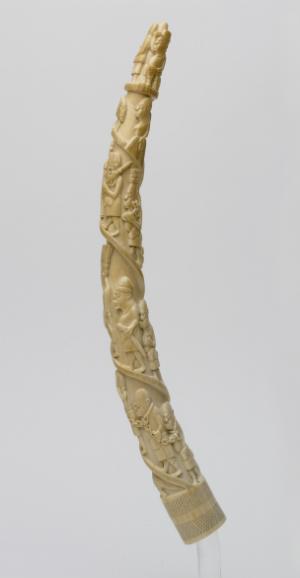 Mangaaka Nkisi nkondi "power figure"), Kongo, Mayombe, Dem. Rep. Congo. About 1900. Gift of O Sonnerburg through A. Ridyard. 29.5.00.21. Last month Mangaaka (29.5.00.21), one of
World Museum'
s most impressive Kongo figures from Central Africa, joined 146 other Kongo-related exhibits in a major exhibition at the Metropolitan Museum in New York. The '
Kongo:
Power and Majesty
'
 exhibition tells the story of Kongo history and creativity over 500 years. Mangaaka is displayed in the final hall of the exhibition, which includes a dramatic display of fourteen other magnificent Mangaaka figures borrowed from various institutions in Europe and the U.S.A.   As curator of our
Africa collections
, I was fortunate to be able to accompany the World Museum Mangaaka to New York as a courier to supervise his installation in the exhibition. It was thrilling to be able to see these rare and powerful sculptures together in one place and to be able to compare the Liverpool Mangaaka with his counterparts from other institutions. I was able to see at first hand that the Liverpool Mangaaka not only had a more elegant and upright stature than other figures in the series, but that he was also more physically distressed and less complete than many others. Mangaaka figures take the form of a powerfully planted male figure, leaning slightly forward with hands on hips. In the middle of his torso, which bristles impressively with nails and iron blades, he sports a raised boss, or 'medicine' pack, which would have contained spiritual forces from the realm of the dead. In the case of the Liverpool figure, this boss shows the impression of a large cowry shell that must originally have been inserted into it. This missing cowry shell would have held an important part of the figures effectiveness, or spiritual power, and it appears that it was deliberately removed, along with other elements like its raffia skirt and parts of its beard. Although not mentioned in museum records, these acts of deliberate de-consecration must have been performed by the figure's original owners in Central Africa before it was transported to Liverpool.
Loango style carved elephant tusk showing narrative scenes porters following a spiral register. From Central Africa. Bequeathed in 1927 by John Lea, a wealthy Liverpool coal merchant and the 1904-5 Lord Mayor. World Museum Liverpool 28.2.27.30. Mangaaka figures were feared and respected like powerful chiefs and also had judicial functions in Kongo comunities. During the late 19
th
and early 20
th
century European Colonial officials in the Lower Congo River region removed many of these figures by force because they could be used to obstruct European trade and they made it difficult for Europeans to impose colonial rule on the population. However, despite confiscating the figures, this did not stop new ones from being made and used, just as they had been before. It was not until about the second decade of the 20
th
century that they finally stopped being used. Seeing the Liverpool Mangaaka in New York made me wonder whether the parts that were removed from him when he was de-consecrated in Central Africa, like the cowrie shell and his beard, were used to make a new Mangaaka figure to replace him. Who knows? 'Kongo: Power and Majesty' runs until 3 January 2016 or you can learn more about Kongo history at
my talk at 2pm on Tuesday 20 October
, at the International Slavery Museum.