Large Mason Bee stamp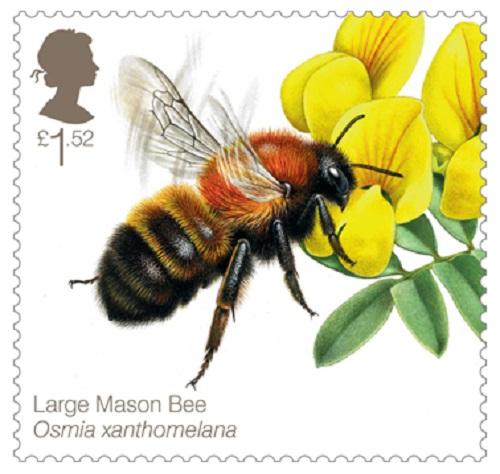 Female Large Mason Bee Carl Clee, an Honorary Curator at
World Museum
, has been coming into the museum most Tuesday's and Thursdays for the last 25 years, or so. Carl  re-discovered the Large Mason Bee in the UK in 1998. It was previously thought to be extinct and we have been studying its ecology and promoting its conservation management for the last 15 years. Here Carl tells us about this fascinating bee: 'The large mason bee
Osmia xanthomelana
, which was thought to be extinct in the UK, was re-discovered in 1998 and is restricted to two populations in North Wales. The Large Mason Bee is endangered in Europe and is the rarest resident solitary bee in the UK, where it is a Biodiversity Action Plan , Species Action Plan priority species and categorised as Red Data Book 1 (endangered) in status. The contraction in range of this bee over the last century is one of the most marked of any British insect. It had been known from 28 sites in England and North Wales but by the 1990s was thought to be restricted to two coastal soft cliff sites on the Isle of Wight, where it is now considered extinct. Two extant populations; at Porth Ceiriad and Porth Neigwl on the Llŷn Peninsula, Gwynedd, North Wales, have been studied since the detection of a few individuals at these sites in 1998 and 1999 respectively. This represents its current British distribution at the extreme north-western limit of its range.
Royal Mail Large Mason Bee stamp In Britain
Osmia xanthomelana
is closely associated with coastal landslips and eroded clay cliffs.  Coastal soft cliff is a UK Biodiversity Action Plan and Habitat Action Plan Priority Habitat and a valued component of the internationally significant coastline of Wales (Wales Biodiversity Group, 2002). The continued survival of
Osmia xanthomelana
in Britain will depend on informed conservation management. It is threatened by current and anticipated pressures on its habitat and restricted by reliance on a special suite of physical, hydrological and floral resources. Its ability to rapidly colonise artificial habitat away from the cliff edge is, however, an encouraging recent development.' The Large Mason Bee is one of six bee species that feature on a new series of
Royal Mail stamps
, available to buy now.