Laying the foundations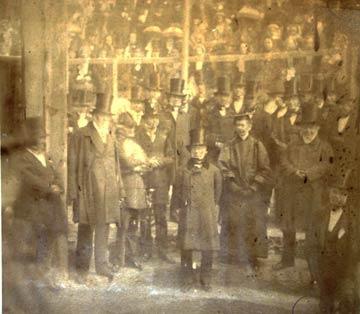 I think you'll agree that there's nothing like a gentleman in a top hat and tails - it's truly a stylish and dapper fashion statement. The guys below are all dressed up for a special occasion, so let's look at the archives - for our
celebration of the World Museum's 150th anniversary
- and see what they were up to on this day in 1857...
---
On 15 April 1857, William Brown laid the foundation stone of the new museum and library – the beginnings of the building in which World Museum is now housed. The records show that:
'...a select party breakfasted in the Town Hall, with Samuel Holmes Esq, Deputy Mayor.  At half past ten, a numerous company assembled in the large ball-room...

At the close of the Presentation of Addresses, a Procession was formed, which moved through the principal streets to the site of the intended building...'
Those listed in the procession were;
'Police of the Fire Brigade, Band of the Bluecoat Hospital, Members of the Arrangement Committee, the Bishop, Alderman Home,  W M Brown Esq, M.P. (Deputy Mayor.) Invited Guests, Magistrates of the Borough, Aldermen and Town Councillors. Gentlemen who presented the Addresses, Deputations, Other Gentlemen Present.'

'They marched three abreast, through Castle Street, Lord Street, Church Street, Parker Street, and Lime Street, to Shaw's Brow.  Thousands of spectators lined both sides of the streets; and both private houses and public buildings were profusely decorated with flags.  The bells of the Parish Church rang out merry peals. As Mr. Brown emerged from the Town Hall the Band struck up 'See the Conquering Hero Come'.'
The American author, Nathaniel Hawthorne, was there and described the laying of the museum's foundation stone;
'Mr. Browne himself, the hero of the day, was the plainest and simplest man of all. An exceedingly unpretending gentleman in black; small, white-haired, pale, quiet, and respectable. I rather wondered why he chose to be the centre of all this ceremony; for he did not seem either particularly to enjoy it, or to be at all incommoded by it, as a more nervous and susceptible man might have been.

The site of the projected edifice is on one of the streets bordering on St. George's Hall and when we came within the enclosure, the corner-stone, a large square of red freestone, was already suspended over its destined place. It has a brass plate let into it, with an inscription...'
They certainly laid the foundations for a great museum and it sounds like it was a ceremony worthy of putting on your Sunday Best!