'Le Plongeur' by David Hockney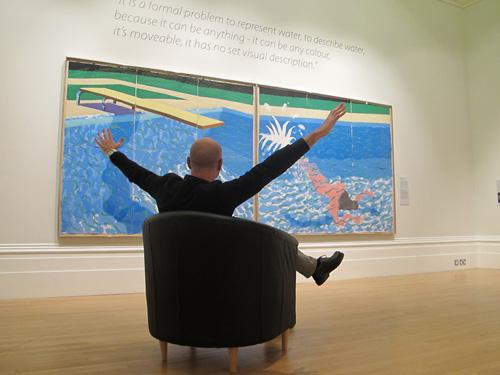 'Le Plongeur' by David Hockney David Hockney's 'Le Plongeur' is part of the Walker Art Gallery's new exhibition,
'David Hockney: Early reflections'
. It looks like a painting; however, Tuesday's talk from Jill Iredale (Curator at
Cartwright Hall
in Bradford) revealed that Hockney actually created the image from pulped paper. After using a thin layer of white paper as a base, Hockney made coloured paper pulp, poured this into a metal stencil and then later pressed the mixture.'Le Plongeur' is particularly interesting because water has so much to do with the medium of the work as well as the subject. To make the paper pulp, lots of water is used and then squeezed out. During the early '60s Hockney arrived in LA where swimming pools were everywhere. Jill pointed out that Hockney was fascinated by water and loved the challenge that it presented to him artistically, adding that they must have seemed exotic to Hockney. During his time in LA, Hockney produced a number of pictures of swimming pools, each time experimenting with representing the surface of the water. 'Le Plongeur' is part of this experimentation process, as Hockney drew inspiration from a city rich in vibrant aesthetics.
Click here
to find out more about what other events are taking place in relation to the Hockney exhibition.