LGBTQ+ Youth Take Pride in Your Identity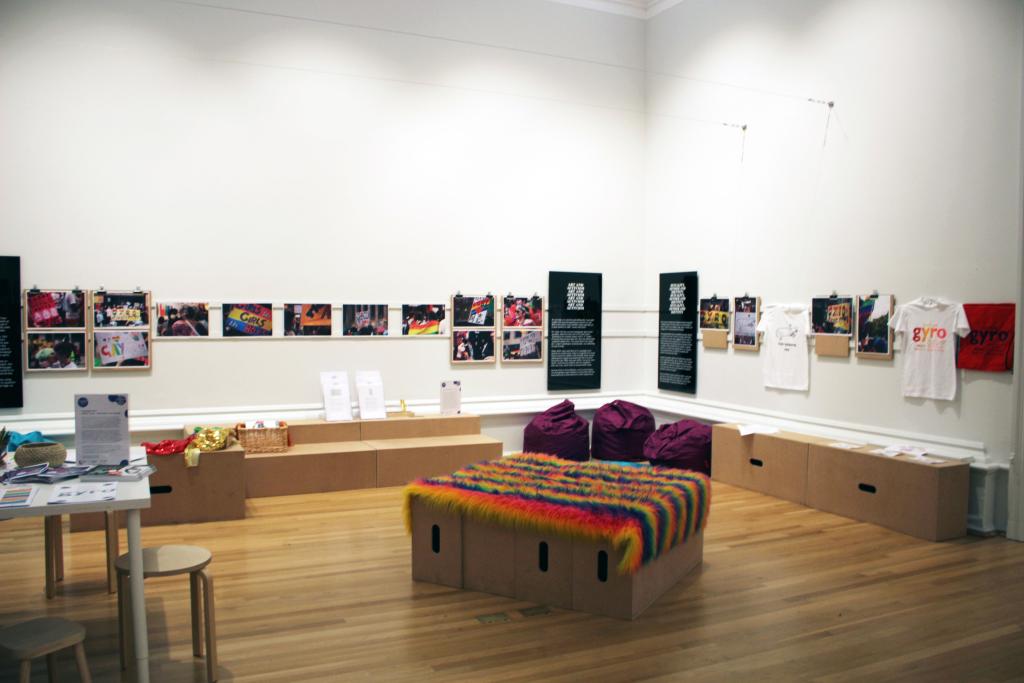 When we decided to create an embedded engagement space within the
Coming Out
exhibition, we were hoping that it would be used by individuals and groups to bring their voices and perspectives to the exhibition. It's been wonderful to see the potential of this space realised through over 30 events programmed as part of Coming Out – many inspired and led by members of LGBT+ communities. Most recently, FORUM was the site for a pop-up exhibition curated by young people from
GYRO
,
Young Person's Advisory Service (YPAS) LGBTQ youth groups, and
THE Action Youth
,
a
YPAS trans-specific youth group. The exhibition formed part of
Liverpool Mental Health Festival
and was accompanied by musical performances and a screening of one of the
Today I am
films created in conjunction with
Thinking Film
. FORUM became a space for the voices and identities of LGBT+ young people to be shared and celebrated. The event itself shared such an incredible range of creativity from the young people that focused on their experiences, identities and activism. Chris Porter, YPAS Support Services Team Lead (LGBTQIA+) and Paul Rooney, YPAS Information, Advice andGuidance Worker (LGBTQIA+) worked closely with the young people to develop this event. As Chris describes:
'...we thought it really important to showcase the amazing work that young LGBTQ+ people across Merseyside have done highlighting pride in their identity. When young people first access our services there is often a caged, guarded and anxious approach to whether they should let us staff into their personal lives. We see anxiety, self harm, depression, suicidal ideation, isolation and low self-esteem coming through the doors but we aim for when they are leaving the same very door that the young people feel empowered, proud of who they are and even happy! Being part of the LGBTQ+ community can be both isolating and galvanising and we hope that the pop-up in FORUM showcased what happens when LGBTQ+ youth get together to use their energy and enthusiasm to shout loud and proud about their identities because contrary to popular belief it's actually pretty awesome being LGBTQ+. We're really proud of our young people for creating the work and curating the space. Big shout out to Ben, Vincent, Peter, the Ukelads, Cal and Jordyn for making the event such a special experience and letting us see things through their eyes. Thanks also to the staff at the Walker who made it all possible including special shout out to the Patisserie chef who made an amazing cake which went down a treat with everyone.'
The event wouldn't have been possible without the contributions from the young people who took part. Ben Saunders, the artist behind the photographs, shared these words with us about his experience:
'I took the photographs in this pop-up exhibition at the Walker Art Gallery called LGBTQ+ Youth- Take Pride in Your Identity throughout the Saturday of Liverpool Pride 2017, when I was part of the parade with the amazing youth service I go to called YPAS (Young Persons Advisory Service).Having my photographs featured in this pop-up exhibition and seeing them in such big print on display for the public was very exciting and I feel very lucky to have had this opportunity. I took these photographs to record the day's events and to capture how overwhelmingly loud, proud and beautiful our city's LGBTQ+ community is. But also, I hope that they can show what a visible and supportive city Liverpool can be towards the LGBTQ+ community. The event was developed by the young people at GYRO and THE Action Youth alongside the amazing staff that support them.'
Events like this one help to demonstrate what's possible in museums and galleries when it comes to exploring the ways in which we can interact with one another and use collections as a starting point for exploring themes that impact our lives. Reflecting on the event and what it meant for those involved, Paul said that '...it was a fantastic showcase of the pride, positivity and creativity that LGBTQ young people in Liverpool have in spades. The pop-up event was a great success and young people really enjoyed having the chance to showcase their work in such a prestigious venue. Curating the exhibition has not only helped young people develop confidence in themselves and their abilities but has also shown them that venues like the Walker Art Gallery can be for, and enjoyed by, young people.
It has been great working with Angelica from The Walker Art Gallery as she has really engaged with our young people, made them feel comfortable and welcome in the gallery and supported us in organising the exhibition. We look forward to working with her again in the future!' If you missed this event, you can still view a selection of the photographs by Ben Saunders, on display until Wednesday 10 October, alongside illustrations from artist Sophie Labelle which feature her
Assigned Male
web comic. On Thursday 12 October, FORUM will be transformed into a site for artist
Paul Maheke to perform Mbu
at 1pm and 3pm. You've also got until November 5 to see Coming Out, an
Arts Council Collection National Partner
exhibition.