"The limitations of painting I find quite beautiful" - Michael Simpson, first prizewinner, John Moores 2016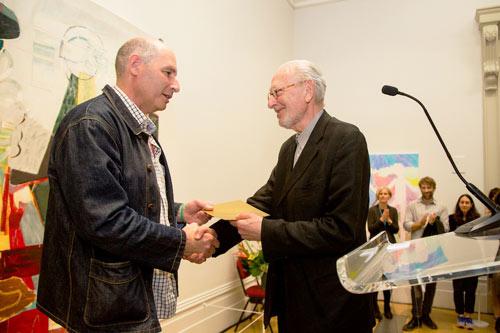 Artist Michael Simpson (right), receives the £25,000 first prize from juror Ansel Krut. Last week was one of the most exciting of the year for the
Walker Art Gallery
, with the announcement of the winner of the prestigious John Moores Painting Prize. After the winner had been announced as
Michael Simpson, with his work 'Squint (19)'
, the artist gave an insightful speech about how he felt about painting. It was fascinating to hear his clearly deep-held feelings about the medium of paint and what it meant to him;
"I have a great admiration for the nature of painting and for what it is and what it can do to people. The limitations of painting I find quite beautiful. The idea that you can make a painting within its own boundary lines - whether it's a rectangle, a square, an ellipse, a circle or even an Egyptian painting on a wall. It has a kind of beauty and it conjures up so many human values and is diverse in the most extraordinary degree. It's a kind of magic, that you can do anything on this simple, flat surface. I think painting will endure for a very long time."
I spoke to Michael after the press event was over and quiet had descended on the gallery. He reflected on how it felt to have won and explained why he often creates a series of paintings. You can watch more videos from the day
on our YouTube playlist
, which includes the rest of Michael's speech from our exclusive live Periscope broadcast.