Liverpool's Dancing Queen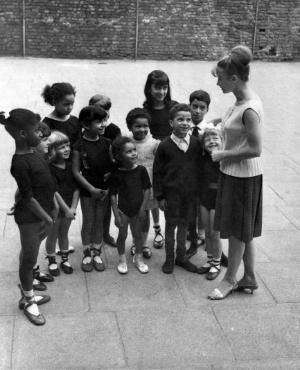 The Museum of Liverpool's oral history project, Liverpool Voices, collects and preserves the stories of Liverpool and its people. As part of this project we recently recorded Liverpool resident Norah Button talking about her pioneering work at the Liverpool Theatre School on Aigburth Road.
Norah took over the running of the Liverpool Theatre School, founded during the Second World War by her grandmother, Anastasia Morrisey, when she was just 15 years old. She told us how she combined her own dance training with running the school and taking on paid work to support her family following the death of her father. "I knew I had to get a job but I still wanted to train [as a dancer] so I got a job, you mention it, I got it: canteen assistant, cleaning, washing glasses in the priests' house, all sorts". Attracted by its £100 prize money Norah also entered and won the 1962 Miss Liverpool beauty pageant. She went on to win numerous other beauty competitions, using the prize money to support herself and the school.
Norah and her cousin Barbara also raised funds by working as air stewards for British Eagle, managing to combine flying holidaymakers to Europe with teaching dancing classes – all in the same weekend!
On a Friday night we used to get to the airport for 4 o'clock, fly out with all the holidaymakers, then fly back on Saturday morning … do all the clearing up on the plane and then we used to have to go to our four church halls [teaching dance classes] … I had this old scooter and we went round like that… we had to go back to the airport Saturday night to take another crowd of holiday makers out and we got back on Sunday … we hadn't slept from Thursday to Sunday and we were useless by then! … It was a lovely life. We did lots, we saw lots of people, we never had the chance to go abroad before, we saw it all for free so it was good.
The result of all this hard work was a career in theatre spanning seven decades including her role as principal of the Liverpool Theatre School, working with Sir Ken Dodd on the choreography for his shows and appearing on stage herself. Norah was awarded the Freedom of the City of Liverpool in 2010.
The Museum of Liverpool was recently the proud host of a celebration of Liverpool Theatre School's 80th birthday, featuring wonderful performances from the school's students. Norah, also now aged 80, is semi-retired but continues to work at Liverpool Theatre School. She told us: "I hope to be teaching until I'm a 100!"