Liverpool's grubby architecture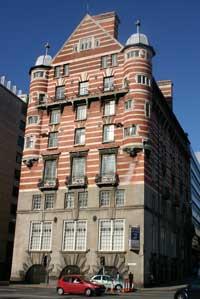 I've just been acquainting myself with Merchant Palaces, our photographic exhibition of Wirral and Liverpool mansions, currently on show at the Lady Lever Art Gallery. I was interested to discover that Dawpool in Thurstaston, the magnificent home of Sir Thomas Henry Ismay, was designed by Richard Norman Shaw the architect responsible for the White Star Line offices in James Street. I've always had a strange obsession with this candy striped masterpiece and yet again this morning its hooped turrets of copper and cream stirred me from my rush-hour induced slumber as I crept along the dock-road. Ever since I visited Liverpool, as a wide eyed 7 year old Boltonian, I've always had a sneaky feeling the White Star building actually has an edible façade. I remember looking longingly and almost salivating at the prospect of a huge building encased in chocolate and icing. So far I have resisted giving its auburn bricks a cheeky lick so I'd like to think there's still a small chance it could be Liverpool's equivalent of the Hansel and Gretel gingerbread house.
This got me wondering if there are any more buildings in Liverpool with culinary characteristics and I discovered the Radio City tower is in fact a marshmallow ripe for melting and the columns of the Walker Art Gallery bear more than a slight resemblance to sticks of coltsfoot rock. Ah, if only Lutyen's Cathedral that Never Was had made it past the planning stage, Liverpool would have been home to an ice-cream sundae of mammoth proportions.