Lord Mayor is a House of Memories 'Buddy'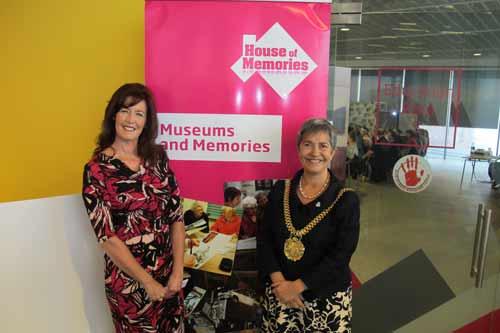 (l-r) Carol Rogers, Executive Director of Education and Visitors at National Museums, and the Lord Mayor of Liverpool, Councillor Erica Kemp Ahead of our new
'Buddy'
programme, which begins at the
Museum of Liverpool
next week, The Lord Mayor of Liverpool, Councillor Erica Kemp, has shared with us her personal experiences of dementia, and how
House of Memories
can help:
"One of the charities I have chosen to support during my year as Lord Mayor is the Alzheimer's Society. So, when I became Lord Mayor I took myself along to the Museum of Liverpool to meet Carol Rogers and learn more about the House of Memories dementia awareness programme. It was an amazing visit and I learned so much about what the Museum is doing to not only support those who have had a diagnosis of dementia but those who support them.
I am learning during my year as Lord Mayor of Liverpool just how important memories are. The Town Hall staff make sure that they keep all the hundreds of photos that are taken of me and all the details of all the events I attend. I receive many letters of thanks and lots of lovely cards. I also keep any programmes of events I attend. My intention is that when I finish my year as Lord Mayor, I will put together a Memory Box for myself that I can look at from time to time and recall the many varied, wonderful and often very emotional events I attended.
Memories are important, happy memories and sad ones. The things we have done shape us as people and make us who we are. When my aunt was elderly she received a diagnosis of dementia and although over a period of time I lost the aunt who had done so much for me in my life, I gained a lady who could tell me about her life as a child in an Italian family. I have a photo of her sitting on an ice cream cart and I was genuinely thrilled to hear all about the family business before the war that was triggered by one photograph.
So, House of Memories has a lot of meaning for me and I know just how good it has been for so many people. Objects, smells, photographs can all trigger thoughts and feelings that we can talk about, which then makes conversation more meaningful.
If you've not been to the Museum of Liverpool do go along and have a look. Then create a memory all of your own!"
If your life has been touched by dementia, and you live in the Liverpool postcode area, like the Lord Mayor, you could attend one of our 'Buddy' days. We are inviting carers, family members, friends and community volunteers to come along to the Museum of Liverpool to find out more about dementia and the resources and activity we can provide to support you and your loved ones. The 'Buddy' day, which is specifically designed for family carers, will include high-quality theatrical experiences, a chance to try out our innovative My House of Memories app and a museum memory tour. We still have availability for the training on Wednesday 22 April, so please email
learning@liverpoolmuseums.org.uk
or call 0151 478 4240 to book your place. Doors open at 9.30am for a 10am start, with free lunch provided and a prompt 2.30pm finish.