Lusitania hero's memento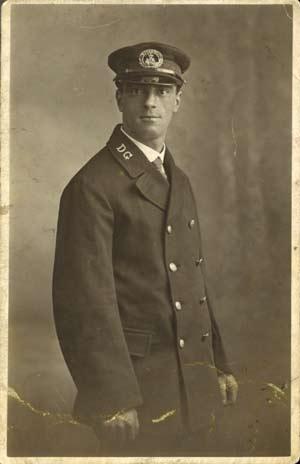 Lusitania baby's shoe – National Museums Liverpool MMM.2014.26.1
A tiny baby's shoe is one of the never before seen items that will be displayed in 'Lusitania: life, loss, legacy', our brand new exhibition opening on 27 March 2015. The shoe was given to Liverpool-born Joseph Parry, aged 26, who was an Able Seaman in the Deck Department of Lusitania. Together with Liverpool-born Able Seaman Leslie Morton, who was just 18 at the time, the pair saved around 100 survivors from the sea on 7 May. Both men were rightly regarded as heroes and were awarded Board of Trade medals for gallantry by King George V at Buckingham Palace. Joseph always treasured one very personal memento - this tiny baby's shoe that was given to him by a grateful lady passenger after he saved her and her baby. On the bottom of the shoe he wrote "Lest We Forget Lusitania 7th May 1915".
Joseph Parry - National Museums Liverpool; copyright unknown believed to be expired
DX/2596
The collection was donated last year by Joseph's grandson, David Knowles, who said:
"The family of Joseph Parry are so proud of his heroic actions during the sinking of the Lusitania that we feel the time is right for his medal to go on show for the public to appreciate his actions".
We already have Leslie Morton's gallantry medal in the collection, so it will be very special for us to be able to display them together. There is some more information about our upcoming Lusitania exhibition.