Lynn Littler – earning her stripes at sea
Lynn Littler grew up in Wirral, yearning to go to sea. She joined Cunard Line as a Lady Assistant Purser aged 21 and stayed with the company over a period of change, when many new opportunities were opened up for women. Lynn is one of the seafarers featured in the Life on Board gallery at the Maritime Museum.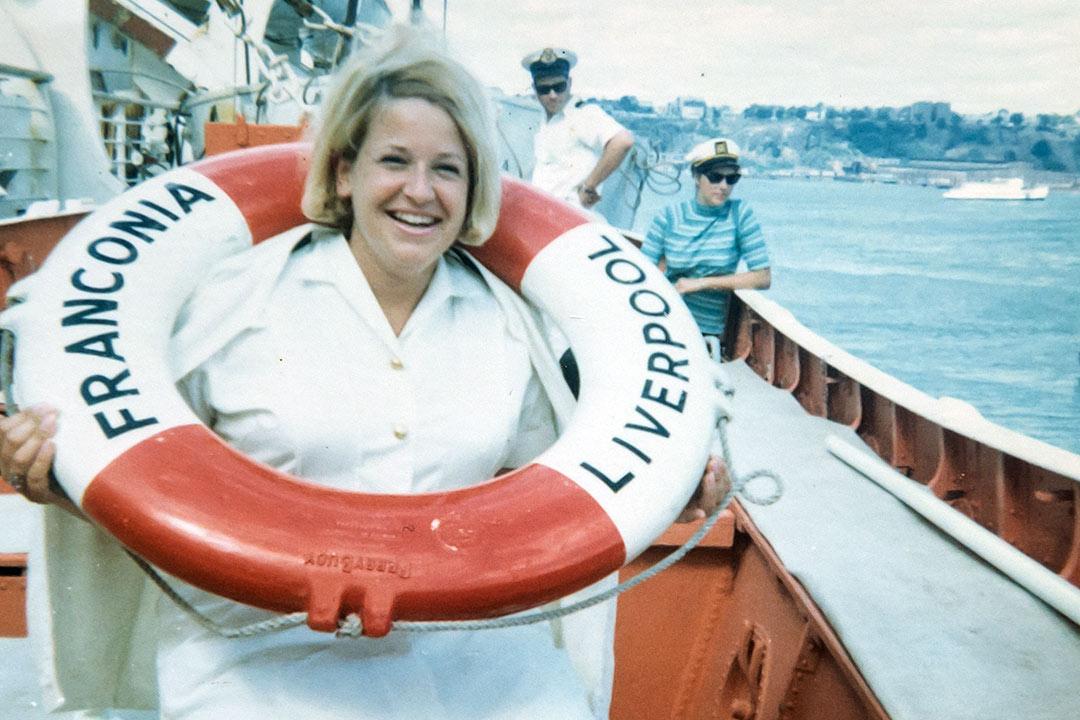 I inherited an independent nature as a family trait, I guess, my family having been entrepreneurs in the furniture world - Waring and Gillow. I was somewhat gregarious, like my mother, and interested in people. My great grandfather had been a Mersey River Pilot - so there must have been a love of the sea in my genes!
I was inspired to go to sea by my beautiful cousin, Sheila. I was probably about 7 years of age when I realised she had an exciting life, travelling the world on Canadian Pacific ships, where she worked in the shops. She used to bring me back lovely souvenirs and presents. So I thought I want to do that! I was totally focused in my young mind. I went to Secretarial College in Liverpool, encouraged by my mother, learnt shorthand and typing and also developed my French language skills, as I knew, by research, that these skills were needed to apply for a purser/stenographer position onboard ship.
Lynn with the other stenographers, 1966
I was accepted by Cunard Line in 1966 and appointed to RMS Queen Elizabeth as Lady Assistant Purser. There were seven Lady Assistant Pursers, with two assigned to each purser's office for First Class, Cabin Class and Tourist Class, and the Senior Lady Purser had her own office. The other Lady Officers were the Nursing Sisters. We all had our own individual cabins and we ate in the Passengers First Class Dining Room. The other female members of the crew were the stewardesses and the laundresses. who were lovingly referred to as 'Steam Queens'! There were about 1000 crew members in total.

Rules were very strict in the 1960s, we were not allowed in the Public Rooms in the evenings, with the following exceptions. On the first night out at sea the Commodore held his passenger cocktail party when all the Lady Pursers would act as hostesses to 'mix and mingle' and greet the passengers. The other exception was Ladies Night Dance, held once every voyage in each of the three classes, when we ran the events for the evening. I remember being asked at my interview if I'd ever used a microphone. I hadn't but was told "You'll learn" - and I did very quickly, but it was a very steep learning curve!

We were allowed to go to the cinema, but the pursers department didn't have a wardroom (officers' mess), the only wardrooms on board were for the deck and engineering officers. All this would change when QE2 came into service and we had a combined wardroom for all departments. I was appointed to QE2 just after her launching. This new modern ship was a total change from the old Queen Elizabeth and Queen Mary. A totally different concept.

When I joined I had one gold stripe on my uniform and that was it. This did not apply to my male colleagues. I thought this was rather unfair, as although we were professionals in our own right, we were not considered for more senior roles, which would mean more gold stripes. Then in the 1970s the anti-discrimination law came out, opening up new opportunities, and we were able to apply for more senior positions.  I was promoted to act as Secretary/PA to the Captain of the QE2 and senior officers, a job I thoroughly enjoyed - more gold braid! 
After seven years I was asked if I would like to take the position of Social Directress, another job which I thoroughly enjoyed. It suited my personality and it was fascinating meeting all kinds of interesting people. I did that job for three years, until I decided to come ashore for family reasons. By that time, in the late 1980s, women held many senior positions on board Cunard ships, including captains, hotel managers and chief engineers.
Captain introducing the senior officers on the QE2, 1982

I was privileged to meet so many wonderful people. I was presented to the Queen Mother when she came on board when QE2 returned from the Falklands War. Captain Jackson introduced me in my role as Social Directress, to which Her Majesty replied, "What an interesting job you have" - well, that said it all!

A fitting ending to my sea-going career was when my husband Michael and I travelled on QE2 as passengers. We were waving goodbye to our family at Southampton, standing on the Boat Deck when Captain Hazell, one of my old bosses, noticed us and asked us to come up to the Bridge. When we arrived it was the usual hive of activity, with the Pilot on board and the Officers preparing for sailing. Captain Hazell asked me if I would like to sound the ship's whistle for departure, what an honour. Another proud and unforgettable moment.
Lynn blowing the ship's whistle, 1997
I would highly recommend a life at sea, it broadens your mind, teaches you to get on with people from all stratas of society - and you get to see the world! I feel so lucky that I had the opportunity, how else cloud I have walked on The Great Wall of China or danced with Sir Anthony Hopkins? I had 24 wonderful years with Cunard and given the chance I'd do it all again!
Images courtesy of Lynn Littler
You can see Lynn Littler's hat and Cunard name badges on display in the Life on Board gallery at the Maritime Museum. There is also a film of Lynn talking about her career at sea in the gallery.