Mapping Memory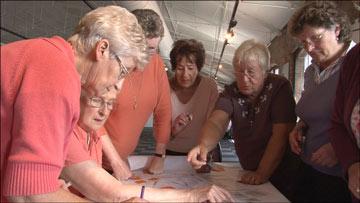 Last month the 'Mapping Memory: L1 and Liverpool's central waterfront' project began with its first workshop, kindly attended by the Liverpool Women's History Group. The aim of the project is to explore memories of the L1 area during the 1950s, 60s and 70s and the Women's History Group certainly provided an abundance of lively and interesting memories and stories for our researchers to collect.
The workshop started by asking the ladies to trace a particular route they would take through the L1 and central waterfront area, revealing a clustering around places such as Lord Street, Paradise Street and London Road. As the session progressed an array of collective memories showed how women used urban space during the twentieth century and the areas of the city which have created the most powerful and resilient memories over the years.
Liverpool Women's History Group completing a Mapping Memory exercise
With numerous workshops scheduled over the coming months we are eager to get in contact with as many people as possible who may have lived, worked or socialised in the L1 area. So if you fit the bill, please get in contact with me (Laura Balderstone) on 0151 794 2416 or email L.Balderstone@Liverpool.ac.uk and share your memories! For more information on the project itself check out the Mapping Memory web page.
The project is a collaboration between NML, Liverpool University and Re-Dock. We're grateful to the Arts and Humanities Research Council for funding it as part of their Beyond Text Programme.