Marilyn's personal Sankofa journey across the Atlantic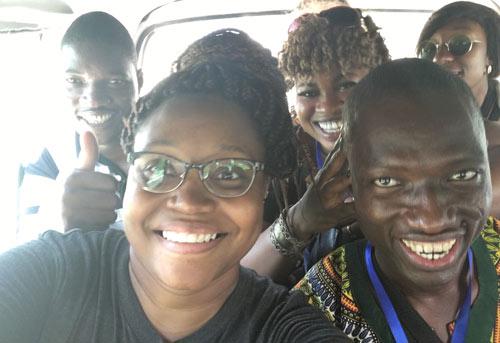 Marilyn with her activist artist friends
I was fortunate to meet Marilyn Young when she made her second visit to Liverpool. Marilyn is an independent researcher from the US, whose interest in Black diasporic communities has taken her all over the world. In this guest blog, Marilyn describes how retracing cities along the Atlantic has led to her personal Sankofa journey, as part of our Sankofa project exploring Liverpool's Black experience:
"I was born in the state of Alabama so naturally I'm familiar with the topic of the transatlantic slave trade. But visiting Liverpool for the first time 10 years ago struck me and in many ways started my Sankofa journey. I saw what my ancestors experienced from another side of the Atlantic and this piqued my interest to dig deeper.
Meeting Eric Lynch at the Albert Dock
I felt an overwhelming sense of nostalgia when I met Mr Eric Lynch, a Black historian and jewel who is no stranger to the Liverpool community. While overlooking the River Mersey on Albert Dock, Mr Lynch described vividly the exchange between goods and African bodies in that very place. I believe I felt the souls of my ancestors in this gray English town and quickly realised the transatlantic slave trade was much more sophisticated than I had imagined.
Figures at the entrance to the Martins Bank building
The slavery history tour: finding Alabama in an unlikely place
During the slavery history tour, Mr Lynch pointed out how 19 Abercromby Square was the embassy of the Confederacy. Liverpool's loyalty to Southern states during the US Civil War was rooted in keeping slavery alive in order to protect profits. Liverpool supplied raider ships such as the CSS Alabama, bizzarely named after my homestate. Along the tour I also saw figures of European bankers who financed the trade. The old Martins Bank building strikes a nerve; at one of the entrances, there is an image of the Roman god Neptune with his hands placed on the heads of two African children. The image represents nothing more than greed, pride and arrogance. The city tour was uncomfortable yet unforgettable. I appreciate Mr Lynch's dedication to educating Liverpudlians and tourists. Both descendants of enslaved Africans, Mr Lynch and I share this history. And his work is the reason I will forever feel connected to the city.
Going Ghana with a pan-African lens
Marilyn with a portrait of Dr Kwame Nkrumah
Fast-forward 10 years later. Over the summer I attended the 2nd Kwame Nkrumah Pan-African Intellectual & Cultural Festival in Accra. The event was held at the University of Ghana and I interacted with the most beautiful and intriguing artists, writers, activists, students and professors from all over the African diaspora. I was reunited with family I had never met. Speaking of reunions, when Kwame Nkrumah became the first president of Ghana and welcomed the diaspora back to Africa, African Americans happily accepted his invitation. Writers and activists such as Maya Angelou, WEB Dubois, Martin Luther King, and Malcolm X visited the country to celebrate Ghana's independence while simultaneously craving equal rights back home in the United States. Nkrumah once said,
"All people of African descent, whether they live in North or South America, the Caribbean, or in any part of the world are Africans and belong to the African nation."
Ghana felt like home and the concept of race escaped my mind. There, I was African and nothing else mattered.
Cannons at Cape Coast Castle
Returning to Liverpool
My visit to Cape Coast Castle was emotional but somehow walking throughout each dungeon helped me visualise my ancestors as individuals who had families and communities. Retracing these steps led me to understand the past and present on a new level. After leaving Cape Coast I decided to return to Liverpool, this time with a sharpened perspective. I dropped by the International Slavery Museum and revisited some of the monuments from the slavery history tour. Traveling to Liverpool, Accra and Cape Coast and writing about my experiences caused me reimagine my identity as an African American. My Sankofa journey will continue and I'm sure somewhere down the line I will visit Liverpool again."
If you have a Sankofa story to tell then we would love to hear from you. Have a look at the Sankofa web pages for more information about the project.
All images courtesy of Marilyn Young.