Maritime Tales – Johnston's Beef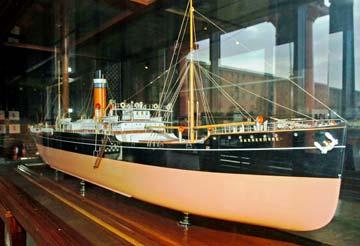 Image courtesy of Liverpool Daily Post & Echo
I used to watch a lot of cowboy films and was amused when a cowpoke would offer refreshments out on the range.
"We got coffee and beans," was always said with the relish more associated with the announcement of a huge feast.
I suppose it was all they could carry in their saddle bags but what about beef – dried, corned or salted? They were literally up to their withers in it.
William and Edmund Johnston founded their shipping company in 1872, operating cargo vessels from Liverpool to the Black Sea, Greece and Turkey – but soon branched out into beef.
In 1880 Johnston Line ships started transatlantic services from Liverpool and London to Boston and other United States east coast ports in partnership with the Baltimore and Ohio Railroad Company.
They specialised in the live cattle trade and later the rapidly growing market in refrigerated beef.
The widespread introduction of refrigeration in the 1890s coincided with the end of the true cowboy era in the United States when cattle drives were an integral part of ranch life.
Cowboys would muster vast herds of beef cattle and drive them to the nearest railroad for transportation. As people moved west and the population grew, cattle became very big business.
The great era of cattle drives started in the 1860s after the end of the Civil War. Cow towns flourished as the railroads reached places suitable for corralling and transporting cattle.
Dodge City was said to be the cowboy capital of the world. It was the introduction of barbed wire and fencing off ranches in the 1880s that sounded the death knell of cattle drives.
A few lingered on into the 1890s but their day was over. Railroads now covered most of the country and meat packing plants were built near major ranching areas, making drives unnecessary.
In 1916 the Johnston Line became a subsidiary of Furness Withy & Co. In 1934 all Johnston ships were transferred to the newly-formed Johnston – Warren Line.
Johnston Line ships continued to sail from Liverpool to Greece and Turkey until the early 1960s.
On display in the Merseyside Maritime Museum's Liverpool World Gateway gallery is a scale 1:48 builder's model of the cargo liner Barnesmore.
Built in 1905 by Messrs Richardson, Duck & Co of Stockton-on-Tees, the Barnesmore was used on Johnston's Mediterranean and Black sea services. In 1916 she was sold to the Whitehall Steam Navigation Co Ltd of Cardiff and renamed Whitehall.
The following year she was torpedoed and sunk in the North Atlantic by a German submarine.
A new Maritime Tale by Stephen Guy appears every Saturday in the Liverpool Echo. A paperback – Mersey Maritime Tales (£3.99) – is available from the museum, newsagents and bookshops.