Maritime Tales - leviathan of the seas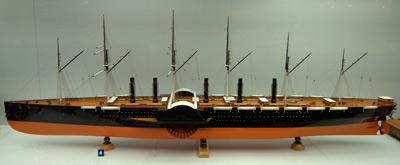 The Great Eastern was the wonder of the age when she was launched in 1858 and for me, Stephen Guy, this is one of the great stories of the sea.
There had never been a ship of this length and size – an amazing 692 feet long. The immense 18,915 ton vessel was not equalled for almost 40 years.
Great Eastern was designed by the visionary engineer Isambard Kingdom Brunel (1806 – 1859). The stress and strain probably killed him.
With her four towering funnels and six huge masts, Great Eastern was to be dogged by misfortune throughout her 30 years in a world not yet ready for such giants.
An incredible six times larger than any ship ever built, she was originally called Leviathan. Her launch was an epic feat, taking three months to complete after she became stuck on the slipway. Then the money ran out.
During sea trials a huge explosion sent a funnel shooting into the air like a rocket. Scalded men ran screaming from below decks – one leapt over the side and was mangled up by the paddle wheels.
People must have been wary of the vast ship because Great Eastern was nearly empty when she made her maiden voyage to New York in 1860. She never carried her full compliment of 4,000 passengers.
Great Eastern successfully laid transatlantic cables before ending her days on the River Mersey as a vast floating advertising hoarding for Lewis's department store. There was a public exhibition on board and attractions such as trapeze artists in the rigging.
As a girl of 18, my grandmother, May Kendrick saw her many times and the extraordinary sight remained with her always. Great Eastern was scrapped at Tranmere in 1888.
Mythical stories relate how one or two skeletons were found in the double bottom. One version says they were a riveter and his apprentice, another that it was a man with a bag of gold!
There is a model of the Great Eastern at the Merseyside Maritime Museum. Also in the collection is a section of the ship's transatlantic cable.
Relics of the Great Eastern include a meat dish decorated with a picture of the ship, a silver-plated coffee pot and a candle lantern. An ibex horn is inscribed with a view of the floating colossus.
If you've not already seen it following the link at the top of this post, you should check out this photograph of the Great Eastern, which is part of our Maritime Archive photography collection.
A new Maritime Tale appears every Saturday in the Liverpool Echo.