Maritime Tales - Liverpool Oars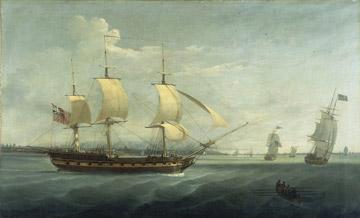 I used to enjoy going for a row on the park lake but now such an experience is difficult to come by.
There are no rowing boats left on Liverpool's lakes, which is a great shame. No longer do you hear the iconic cry: "Come in number 12!" when your half hour is up.
Many marine paintings feature them but they are often overlooked – the humble rowing boat has always been a key part of maritime life.
Merseyside Maritime Museum's Art & The Sea gallery features many models and pictures with all types of oar-driven boats from lifeboats to the working boats of the Mersey.
The painting Elinor Chapman off Liverpool by Joseph Heard (1799 – 1859) features a device often used by the artist – he tilts the vessel slightly to show what is happening on deck.
Heard gives the same treatment to a passing small boat that scurrying past under sail. The oars can be seen stowed ready for use when they approach the quayside.
Eight men in a rowing boat are included in 28 Gun Ship in the Mersey by John Jenkinson (pictured). Six of them pause with their oars out of the water as the warship passes.
This painting dates from around the time of the Battle of Trafalgar (1805) and shows a frigate – the type of vessel used in patrol and defence work. Horatio Nelson defeated the Spanish and French fleets in the battle. As a result peace reigned and the Royal Navy dominated the seas for the next century.
The victory was an important factor in the growth and prosperity of Liverpool and other ports because British merchant ships could travel the seas largely without fear of attack.
At least six rowing boats can be seen in a beautifully-detailed painting called The Brig St Lucia in the Mersey by Robert Salmon. They carry between three and six people.
The painting was commissioned by Hugh Owen, captain of the St Lucia 1821 – 1823. St Lucia was built in Liverpool in 1818 for the Caribbean trade in sugar and other tropical goods.
The museum's ship models depict lifeboats in various levels of detail. These include the Empress Queen, my own favourite of all the models on display.
The Haverford is one of the few that includes the oars in the lifeboats – 18 are depicted in this tour de force of the model-makers craft.
Some, including the original Titanic builder's model, have the lifeboats covered with tarpaulins.
Three rowing boats were constructed in amazing detail in the Pilkington Collection of French Prisoner-of-War Models, outstanding treasures of the museum. One depicts a large boat with seating for about 20 rowers.
This is a version of my Maritime Tale that originally appeared in the Liverpool Echo.