Maritime tales - Nowhere to hide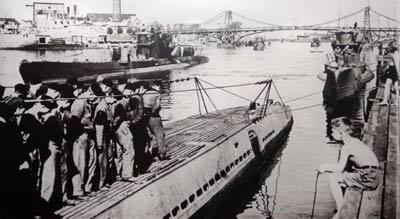 A childhood game left me claustrophobic so I cannot abide crowds of people in enclosed, windowless spaces.
The popular Liverpool school playground activity in the 1950s involved a group of lads piling on top of you until you screamed for mercy. As a result, submarines are not for me.
Germany's U-boats waged an underwater campaign against the transatlantic convoys bringing vital supplies to Britain during the Second World War.
But once the Allies had gained advantage in the Battle of the Atlantic there was no escape for the U-boats and it was only a matter of time before they were routed.
Although the Germans developed new U-boat weapons and equipment, they came too late. Renewal of the U-boat offensive was ended by Allied advances in Europe.
German naval commander Admiral Karl Donitz issued the ceasefire order on 4 May 1945. The U-boat crews were elite seafarers who were proud of their achievements. At the end of the war, more than 200 U-boats were scuttled by their crews so they would not fall into the hands of the Allies.
There is a display of U-boat exhibits at the Maritime Museum.  A U-boat issue grey leather jacket, made in Vienna, hangs next to a German-issue sweater with zip-up collar.
A pair of binoculars was taken from a captured U-boat commander. A Kriegsmarine ensign emblazoned with a swastika is believed to have come from a surrendered U-boat.
A wooden heart decorated with flowers has the humorous inscription in German: "The cunning of women is endless". Kriegsmarine badges and personal effects were "liberated" from German naval barracks at Emden, north west Germany, by a British soldier.
A photo shows the crew of a U-boat standing with heads bowed as the sub docked at Wilhelmshaven naval base following the German ceasefire.
An aerial view reveals more than 60 surrendered U-boats at Lishally, near Londonderry, Northern Ireland.
A number of German submarines arrived in Liverpool and the surrendered U1023 is seen in the Mersey.
On display is the painted emblem from the conning tower of the U249, the first German submarine to surrender at sea to the Royal Navy at the end of the war. On 9 May 1945, following orders from German High Command, U249 surrendered to HMS Magpie and HMS Amethyst.
The emblem was the gift of Mrs P Symonds of Dorset in memory of her late husband, Capt George Symonds, in command of HMS Magpie at the time of the surrender.