Maritime Tales - Ships' Galleys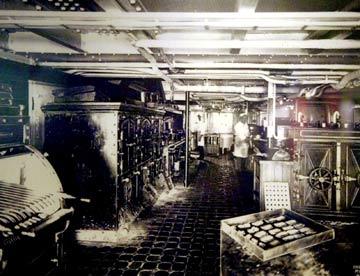 I enjoy reading menus, particularly those from years ago and meals I have enjoyed in the past.
I attended many formal lunches and dinners with members of the Royal family during my years as a news reporter. I remember after one of them Princess Diana announced she had given up alcohol.
At another everybody - including Princess Margaret - was served identical steaks. Did they all come from the same tin? We didn't care as we were then entertained by Larry Grayson, Frankie Vaughanand Harry Worth.
Mass catering on board ships developed with the arrival of steam on the emigrant routes as millions of people headed for new lives.
In the days of sail most passengers had to cook their own meals in very rudimentary accommodation. Steam ships opened up the world to more and more people and competition meant rising standards.
By the early 20th century liners had developed into sophisticated floating palaces where even Third Class (Steerage) passengers enjoyed good accommodation and varied menus.
Ship's galleys or kitchens developed alongside the constantly improving conditions on board ship.
Various aspects of food on the waves are examined in Merseyside Maritime Museum. A photograph shows the galley of the Royal Mail Line liner Amazon of 1906 (pictured).
It features equipment designed for bulk cooking including rows of huge ovens. Amazon was sunk by a German U-boat submarine on 15 March 1918.
Four metal items used on ships of the famous White Star Line are on display – large tea and coffee pots, a serving dish and a table fork. All feature engraved White Star flags.
Other items include a First and Second Class dinner plate produced for the Dominion Line about 1900. It is decorated with a blue border and carries a a Dominion Line flag at the centre.
A paper knife is engraved with the badge of the Mississippi and Dominion Steamship Company, founded in 1870. This became the Mississippi and Dominion Steamship Co in 1872.
A soup ladle was produced for the Liverpool and Great Western Steamship Co known as the Guion Line in 1871.
Stephen Guion founded the company in 1866 for the Liverpool – New York route. Fast ships allowed Guion to compete for the highly sought-after emigrant trade.
The company later suffered set-backs including the burning of the Abyssinia in 1891 and a cholera scare affecting passengers the following year. Outpaced by new liners operated by rivals, Guion ceased operations in 1894.
A Shaw Savill and Albion Co galley bill of fare has hand-written menus that were offered to officers and crews on the Suevic in 1951.
A new Maritime Tale by Stephen Guy appears every Saturday in the Liverpool Echo. A paperback – Mersey Maritime Tales (£3.99) – is available from the museum, newsagents and bookshops.