Maritime Tales – Two Portraits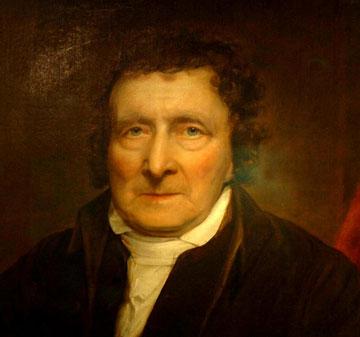 I like the saying You Can't Tell a Book by its Cover but nevertheless feel you can read a lot into a person's demeanour if not their physical features.
I spent 30 years in the criminal and civil courts as a news reporter filling notebook after notebook with Pitman's shorthand. During lulls in the proceedings I could study the accused closely.
Some had committed horrific crimes and their faces may have revealed their character but not their past.
Both men were contemporaries but their attitudes to the slave trade and Liverpool's role were very different.
By the time of abolition in 1807 the slave trade and associated trade to the West Indies probably generated about 40 per cent of Liverpool's wealth. The town was Europe's leading slave trading port.
Pictured is Thomas Golightly (1732 – 1821) who was financially involved in the trade right up to abolition. William Roscoe (1753 – 1831) successfully and very publicly fought to stop the iniquitous traffic.
Their portraits are in the International Slavery Museum, in the Merseyside Maritime Museum building – both reveal their contrasting personalities.
Golightly is skilfully captured by an unknown artist of the early 19th century British school.  The sitter looks straight out of the canvas, his lips pursed, eyes fixed on the viewer.
Roscoe, by contrast, is seen studying a letter or document. The portrait, after a work by John Williamson, reflects the sitter's intellectual qualities – this is no hard-headed businessman planning his next deal.
Golightly was elected to Liverpool Town Council in 1770, aged 38, and served the town for the rest of his life. Around 1770 – 1775 my great-great-great-great grandfather Peter Guy was Liverpool's only postman.
Golightly, like many merchants and businessmen, was a freemason. There were about 10 lodges in Liverpool in the late 18th century, providing networking opportunities at home and abroad.
A lodge founder, Golightly was a powerful political and administrative figure. He was mayor in 1772- 3 and treasurer for more than 30 years between 1789 and 1820.
Roscoe was arguably Liverpool's greatest citizen. A leading lawyer, he was also a social reformer, politician, poet, historian, writer, art collector and banker.
Born the son of a tavern-keeper, he was largely self-educated and intensely loyal to Liverpool with a burning desire to end the slave trade.
He was fiercely opposed by people like Golightly who resisted any change. However, many campaigners like Roscoe and freed slave Olaudah Equiano turned around opinion.
Roscoe stood for Parliament on an anti-slave trade ticket. He was elected MP and was one of the leading backers of the Bill that brought about abolition.
A new Maritime Tale by Stephen Guy appears every Saturday in the Liverpool Echo. A paperback -Mersey Maritime Tales (£3.99) – is available from the museum, newsagents and bookshops.