Maya world: a rainforest civilisation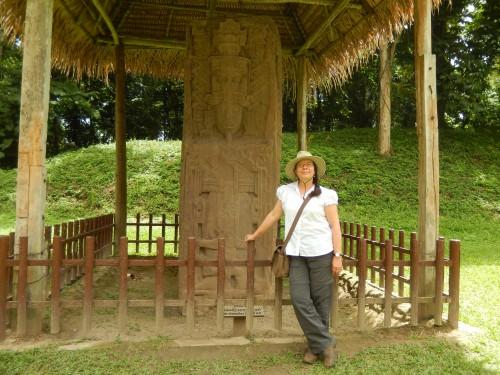 Edificio de los Cinco Pisos, or Temple of Five Floors, Edzna Consejo Nacional para la Cultura y las Artes - Instituto Nacional de Antropología e Historia - Fotógrafo Ignacio Guevara. The ancient Mayas built one of the world's most successful and brilliant civilisations, tantalising remains of which survive.  Colossal stone cities were the centre of Maya culture.  These cities were home to dramatic pyramids that housed temples and the palaces of the Royal courts.  Here they developed a complex writing system and recorded their own history.    We know this from the objects they left behind including murals, ceramic vessels, stone sculptures and artefacts uncovered from burial sites across their homelands in Mesoamerica.  In
World Museum's
new exhibition '
Mayas:
revelati
on
of an endless time
' 385 objects dating back up to 3000 years are on display providing an insight into the Maya people's belief systems and daily lives. We are delighted to welcome Professor Silvia Gonzalez, Professor of Quaternary Geology and Geoarchaeology at Liverpool John Moores University, to World Museum's Treasure House Theatre on Sunday 28 June at 3pm, for her free talk:
Maya world: a rainforest civilisation
. Her talk will share the results of 20 years of research seeking to understand who the early cultures were  using a combination of geological and archaeological techniques. Revealing the latest developments on the study of the Mayans she will explain how they dominated their environment to build some of the most beautiful pyramid complexes in the middle of the rainforests of Central America, all are welcome, booking not required.
Professor Silvia Gonzalez Professor Gonzalez was born in Mexico City and along with many other members of the Mexican community around Merseyside will be sharing their ancient Mayan knowledge, legends, music and games through a series of free events taking place at World Museum until mid October 2015.  There are workshops, talks and hands on experiences, aimed at families to experience the "Mayan World" for full details visit the
website
.