Meeting Mr Miller - our new research on a Pre-Raphaelite patron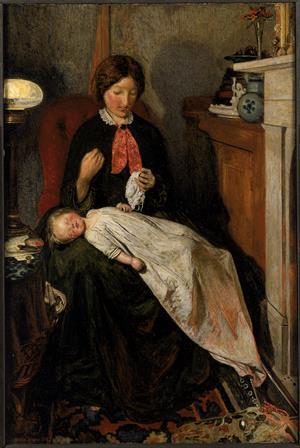 Waiting: an English Fireside in the Winter of 1854-5, by Ford Madox Brown, was acquired by John Miller. © Walker Art Gallery Ahead of an exciting
free lecture
taking place at the Gallery on Saturday, Ann Bukantas, Head of Fine Art at National Museums Liverpool, shares some of the findings of her research into Liverpool collector John Miller: "It's not often enough that you get to be involved in a major art-related discovery, especially not within a movement that has been as well researched and well exhibited over the decades as Pre-Raphaelitism has. But for our current exhibition,
Pre-Raphaelites: Beauty and Rebellion
, because we have been exploring the Pre-Raphaelite story through a Liverpool lens, we've made some important new discoveries. One of the most exciting of these relates to the Liverpool-based, Scottish-born merchant John Miller, who I have been researching now for the past three years. Miller arrived in Liverpool in the first quarter of the 19
th
century, a young entrepreneur keen to make his fortune in Liverpool's rapidly expanding economy. Through trading goods including timber, he made enough money to start collecting art – and as the 1850s progressed he became an art shopaholic, with far more pictures than he had wall space! He even dabbled in picture dealing. In particular he became a passionate supporter, promoter and collector of
Pre-Raphaelite art
, from the major figures like
John Everett Millais
to the Liverpool School painters including
William Davis
.
Miller has long been regarded as one of the most important of the Pre-Raphaelites' collectors, but only a limited amount has been known about him, largely through letters he exchanged with the artists and fellow collectors. My new research, which we've published in our exhibition catalogue, gives us a fuller understanding of who Miller was.
Now, it is one thing to research and piece together the details of a historical figure's life story, but it's another thing all together to be one of the first people to see their face! Paintings, sculptures and drawings of Miller are known to have been made – including a drawing by Ford Madox Brown – but frustratingly these all remain untraced. My work on Miller brought me into contact with Dr David Taylor and his fascinating research on the Lushington family's archive at the Surrey History Centre. The Lushingtons knew many of the Victorian era's most famous people, and one of them, the lawyer Vernon Lushington, knew John Miller. Working through the archive, David Taylor uncovered some 19
th
-century 'albumen print' photographs from Vernon's collection, including one of an elderly man with bushy white hair. Together we realised we were looking at the only located image of John Miller – the first people to meet him! I've been lucky enough to hear first-hand from David about his remarkable discoveries (some of which he's written about in our
catalogue
) and I'm really excited that he's now coming to the Gallery to give a free
public lecture
for our visitors on Saturday 5 March 2016, 1-2pm. It's going to be a fascinating talk!"